Camping in Andorra
2

campsites in

Andorra
Campsite Listing Google Map
The following consent is required:
Tracking & performance, Targeting & advertising.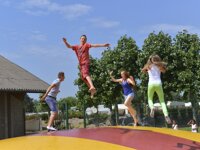 Andorra is a country of narrow valleys with pine and birch forested mountains. Xixerella is attractively situated in just such a small valley below towering...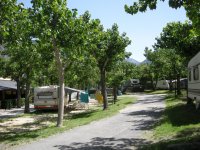 This compact, terraced site is named after the river in the town of Andorra-la-Vella. It has a steep curving entrance directly off the N145, which...
Andorra
Nestled in the eastern Pyrenees between France and Spain, Andorra is a popular alternative to its larger neighbours. Its sunshine record rivals that of the Algarve, and in winter, the snow-capped mountains are a great place to enjoy sports such as skiing and snowboarding. Several of the campsites in Andorra are consequently open all year.
The capital city, Andorra la Vella, is easy to walk around and makes for a good day out when taking a break from hiking or snow sports. It's great for shopping with independent boutiques and large department stores and has some great restaurants where you can try local cuisine.
A family camping holiday in Andorra is bound to include some fun and frolics, and there's plenty to keep everyone occupied thanks to the leisure and adventure park, Naturlandia. There are slides, quad circuits, paintball, and an animal park featuring wolves, bears and chamois.
Camping options in Andorra
Camping options are limited, as the country is the sixth smallest in Europe at only 468 km2
Alternative campsites close to Andorra:
Basic information Capital Andorra la Vella
Currency Euro (EUR)
Language(s) Catalan, Spanish, French & Portuguese
Time Zones CET (GMT+1)
Summer (DST) CEST (UTC+02)
Telephone Code +376
Units Metric

EU Member No
Schengen Area No

Tourism Website visitandorra.com
Andorra is not a member of the European Union, but it has a special relationship with the EU that allows for the free movement of people and goods across its borders.
However, customs checks may be carried out on vehicles and individuals crossing the border to ensure that goods and individuals comply with Andorran regulations. Visitors to Andorra may also be subject to immigration controls, and it is important to ensure that you have the necessary documentation to enter the country, such as a valid passport or identity card and visa if visiting from outside the Schengen area.
Shopping in Andorra
Shops in Andorra generally have the following opening hours:
Monday to Saturday: Most shops in Andorra are open from 9:30 am to 1:00 pm and from 3:00 pm to 8:00 pm.
Sunday: Many shops in Andorra are closed on Sundays. However, some shops in tourist areas may be open on Sundays during peak tourist season.
It is important to note that some shops in Andorra may have different opening hours depending on their location, size, and type of business. For example, supermarkets and department stores may have longer opening hours, while smaller shops and boutiques may have shorter opening hours or may close for a period in the afternoon.
During holiday periods, such as Christmas and New Year's, many shops in Andorra may have extended opening hours to accommodate the increased number of tourists.
Money in Andorra
Andorra uses the euro as its official currency. Visitors to Andorra will find that most places accept credit and debit cards. However, it is advisable to carry some cash, especially when visiting smaller towns and villages where card acceptance may be limited.
ATMs are widely available, and many have multilingual instructions. It is also worth noting that Andorra is a tax-free haven, which can make certain goods, such as tobacco and alcohol, significantly cheaper than in neighbouring countries.
Public Holidays in Andorra
New Year's Day: January 1st
Epiphany: January 6th
Constitution Day: March 14th
Good Friday, Easter Monday
International Workers' Day: May 1st
Whit Monday: 50 days after Easter Sunday
National Day of Catalonia: September 11th
Our Lady of Meritxell Day: September 8th
All Saints' Day: November 1st
Immaculate Conception Day: December 8th
Christmas Day: December 25th
It is worth noting that some businesses may close or have limited hours on public holidays in Andorra. Additionally, the dates of some holidays may change slightly each year, so it is always a good idea to double-check the exact dates if you are planning to travel to Andorra during a public holiday.
Please note Some dates are moveable, so please check before travelling. Driving in Andorra
Visitors to Andorra who wish to drive in the country must comply with the following requirements:
A valid driver's license: Visitors must have a valid driver's license from their home country or an International Driving Permit (IDP) to drive in Andorra.
Car insurance: Visitors must have valid car insurance for their vehicle, covering both the driver and passengers. It is essential to check with your insurance provider to ensure that your policy covers driving in Andorra.
Vehicle registration: Visitors must have a valid vehicle registration for their car, which must be displayed on the vehicle.
Safety equipment: Always carrying a warning triangle, reflective vest, and spare bulbs in the car is mandatory.
Minimum driving age: The minimum driving age in Andorra is 18 years old. However, car rental companies may have their own age restrictions.
Traffic laws: Visitors must follow Andorra's traffic laws, including speed limits, traffic signals, and road signs.
Winter driving: During the winter months, from November to April, snow chains are mandatory on certain roads in Andorra. Visitors should also be aware of potentially hazardous driving conditions due to snow and ice on the roads.
It is important to note that Andorra is a mountainous country with many winding roads, steep gradients, and narrow lanes. Visitors should exercise caution when driving and be aware of local traffic laws and regulations.
Andorra Emergency Services
Ambulance/Fire Brigade 118
Police 110
Mountain Rescue 112
Medical Emergency Service 116
Andorra's Climate
Andorra has a temperate climate with cold winters and mild summers.
Due to its location in the eastern Pyrenees mountain range, the weather can be unpredictable and vary significantly depending on the altitude and the time of year.
In the winter, temperatures can drop well below freezing and heavy snowfall is expected, making it a popular destination for skiing and winter sports enthusiasts.
During the summer, temperatures are generally more pleasant, ranging from around 20-25°C (68-77°F), although it can still be cooler at higher altitudes. Rainfall is relatively evenly distributed throughout the year, with slightly drier conditions in the summer months.