Destinations Magazine
The magazine from Alan Rogers featuring inspiring holidays for campers, caravans and motorhome owners. It's all about the experience, the atmosphere, the freedom and the fun of a campsite holiday.
Jam packed with holiday ideas for campers, caravanners and motorhomers, Destinations magazine aims to inspire your future trips. You'll find fantastic locations, top tips and the latest products, as well as a sneak peek into the lives of those that inspect the campsites you visit. Grab a cuppa, get comfy and enjoy.

Destinations Edition 10 ᴺᴱᵂ Spring 2023
Destinations Magazine is back with all new content!

Contents:
Destinations Edition 9 Autumn 2022

Contents:
Destinations Edition 8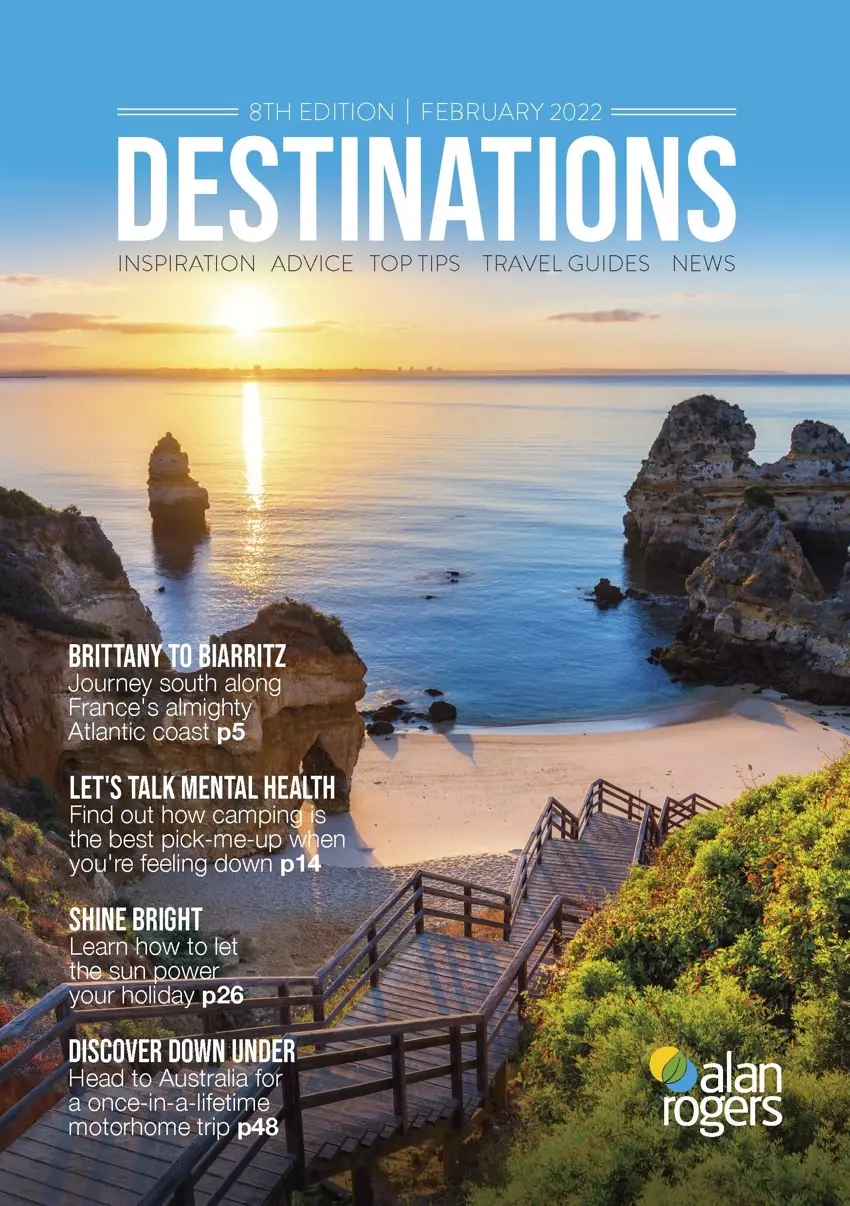 Spring 2022
In this edition, our fabulous guest contributors return with new content and we talk about current issues such as sustainability, solar power and mental health. We journey to France, Spain and Portugal, venture to Australia, and share our 50+ years of know-how on when and where to camp and first-time travel to the continent.
Contents:
Destinations Edition 7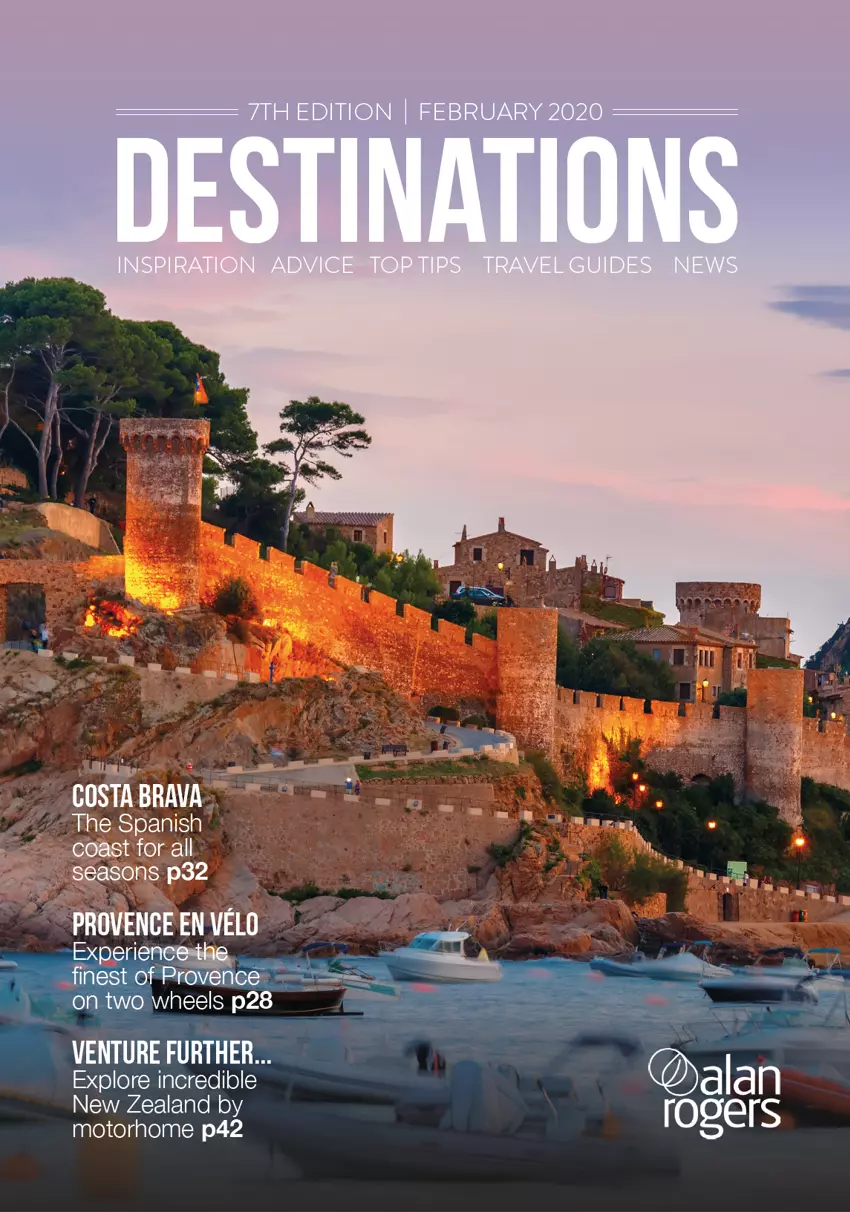 Spring 2020
For this edition, we've introduced several guest contributors from around the globe, which we hope gives a more international flavour to the publication. This issue includes some genuinely fantastic destinations, from the traditional caravanning destinations of France and Spain; to a once-in-a-lifetime motorhome holiday to New Zealand.
Contents:
Destinations Issue 6 Spring 2016
It's never too early to start daydreaming about your next camping trip. We all need something inspirational to keep us going through the darker days until spring. And this issue is crammed full of inspiration!
Contents:
Stunning holiday ideas from Antibes to Zagreb
8,000 campsites, 31 countries – find the one for you
Up close and personal
Shhhh...! Special destinations, cool kit, behind the scenes with our inspectors
And the winner is...
Your VIP Pass to the Alan Rogers Awards 2015
Destinations Issue 5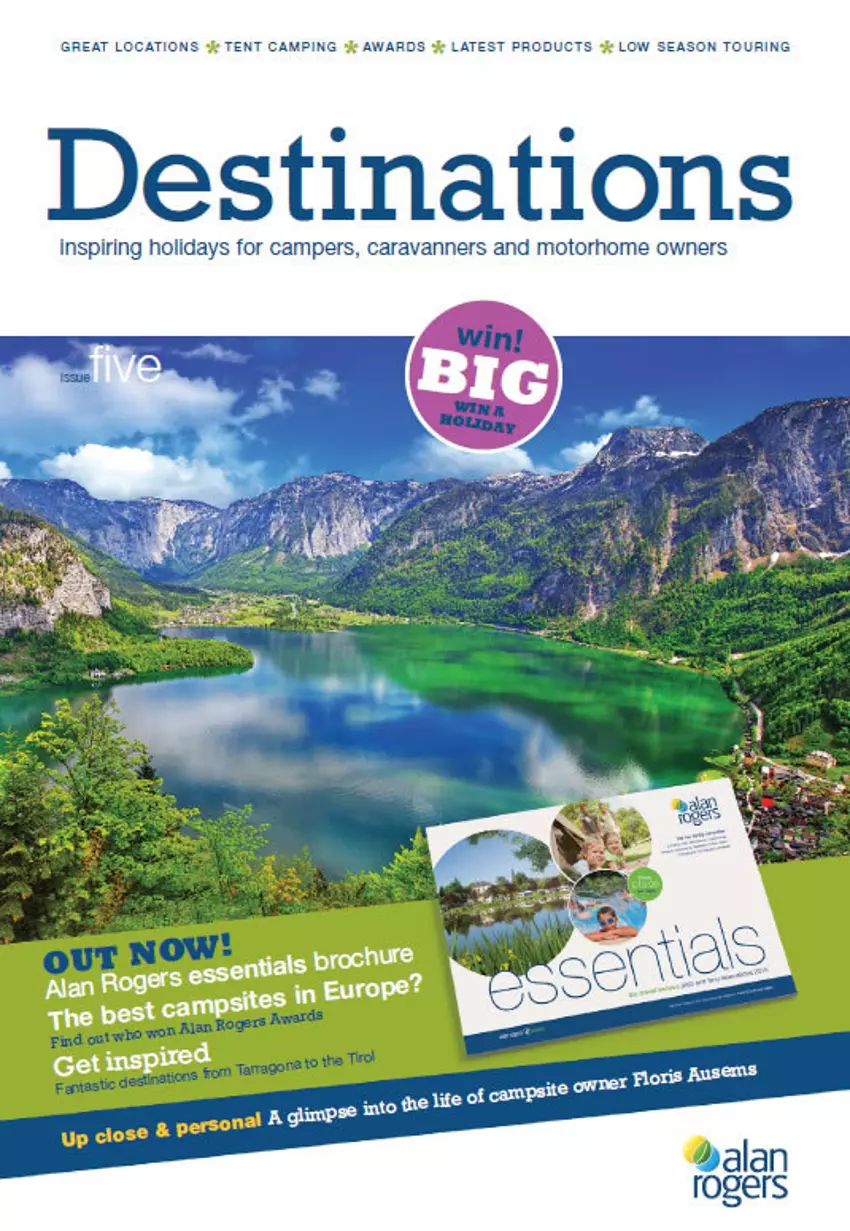 Spring 2015
The camping and caravanning industry is going from strength to strength as more people discover the joy of the great outdoors, and here in the Destinations office we can't quite believe it's time to start the new season already!
Many of the campsites we work with reported a successful year in 2014 and have big plans for the coming spring and summer to make them even more appealing to holidaymakers...
Contents:
The best campsites in Europe?
Find out who won Alan Rogers Awards
Get inspired...
Fantastic destinations from Tarragona to the Tirol
Up close & personal...
A glimpse into the life of campsite owner Floris Ausems
Destinations Issue 4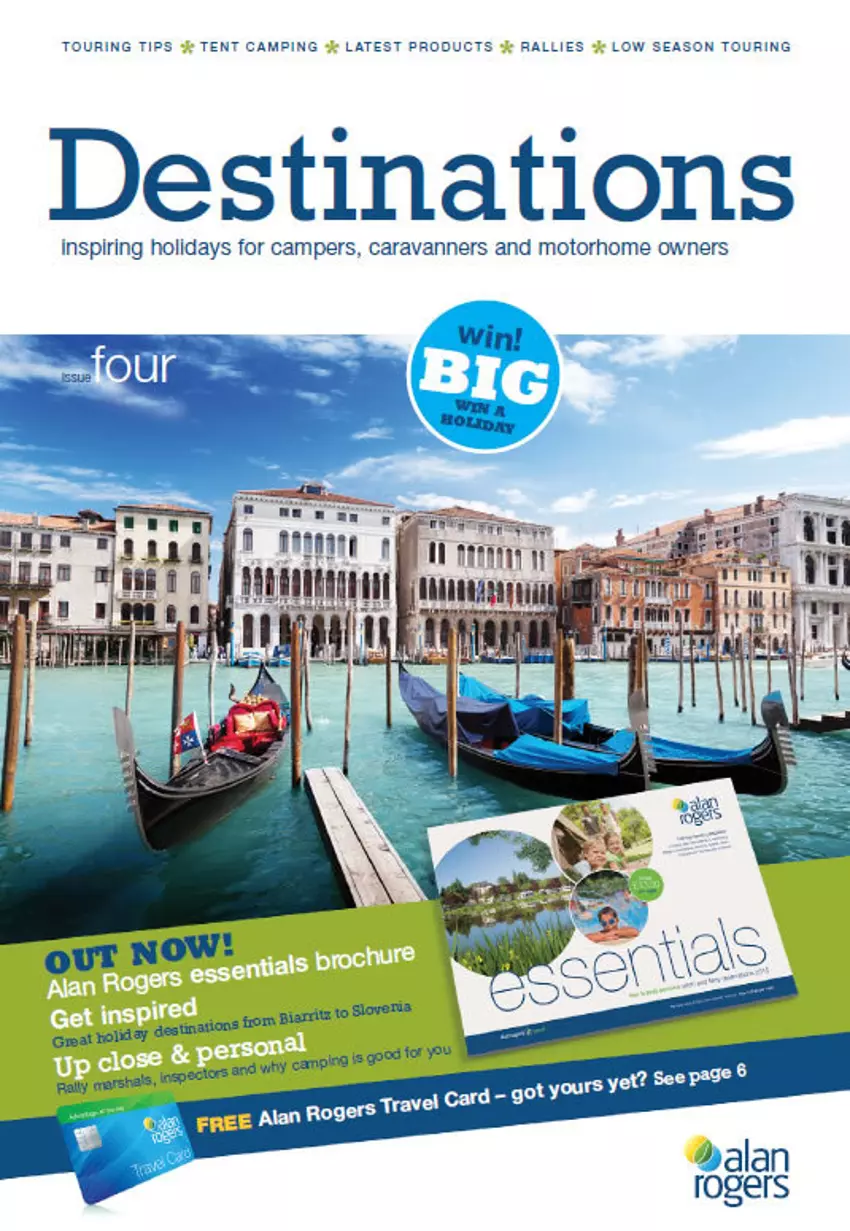 Autumn 2014
Our readers know as well as we do that there's nothing quite like the sense of freedom that a campsite holiday brings.Whether you're packing up the tent for an impromptu weekend away or preparing to spend the winter touring, the promise of fresh air and natural surroundings is beyond compare...
Contents:
Get inspired...
Great holiday destinations from Biarritz to Slovenia
Up close & personal...
Rally marshals, inspectors and why camping is good for you
Destinations Issue 3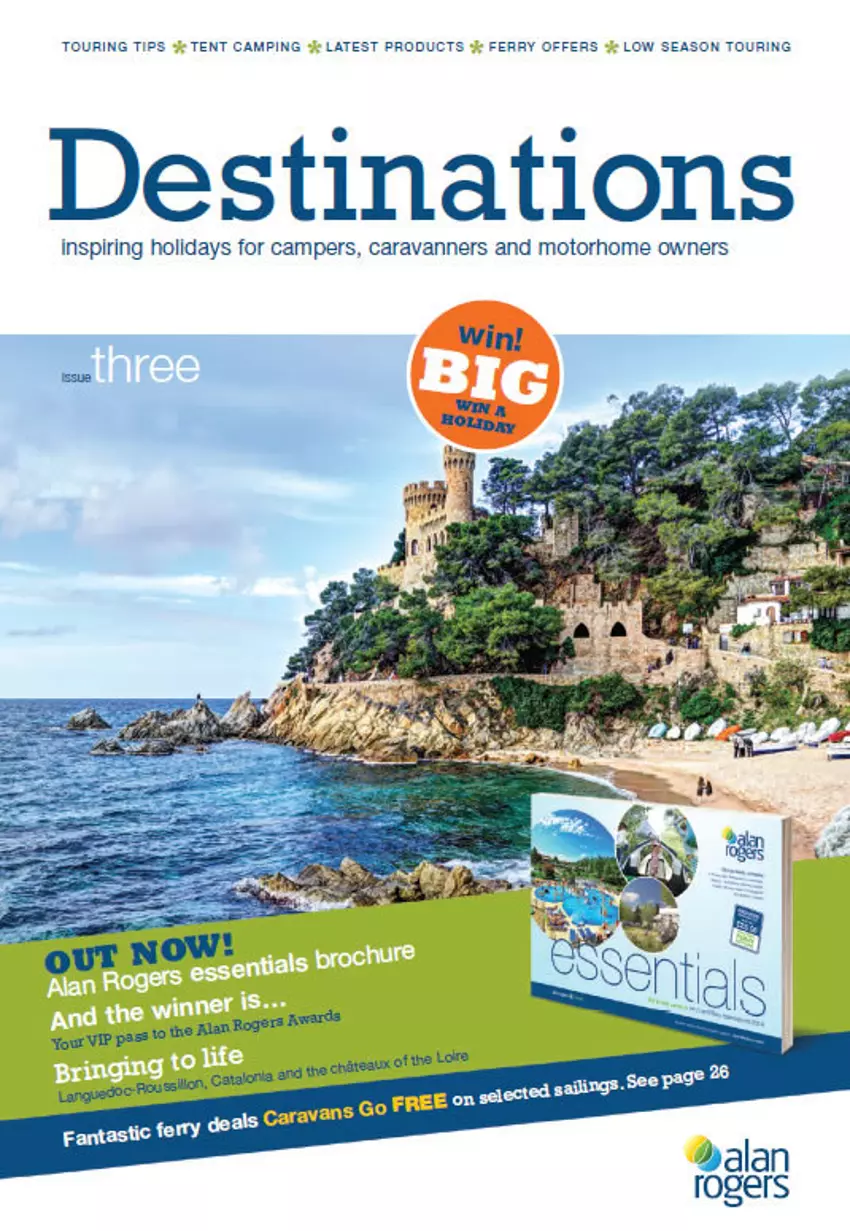 Spring 2014
Thank you for all the feedback and words of encouragement from our earlier editions - this slim magazine is designed to be, in a way, an antidote to the mainstream camping and caravan magazines.
Our aim is simply to pass on a little of our enthusiasm for the great outdoors and offer you some ideas for holiday destinations that may not necessarily spring to mind....
Contents:
And the winner is…
Your VIP pass to the Alan Rogers Awards
Bringing to life...
Languedoc-Roussillon, Catalonia and the châteaux of the Loire
Destinations Issue 2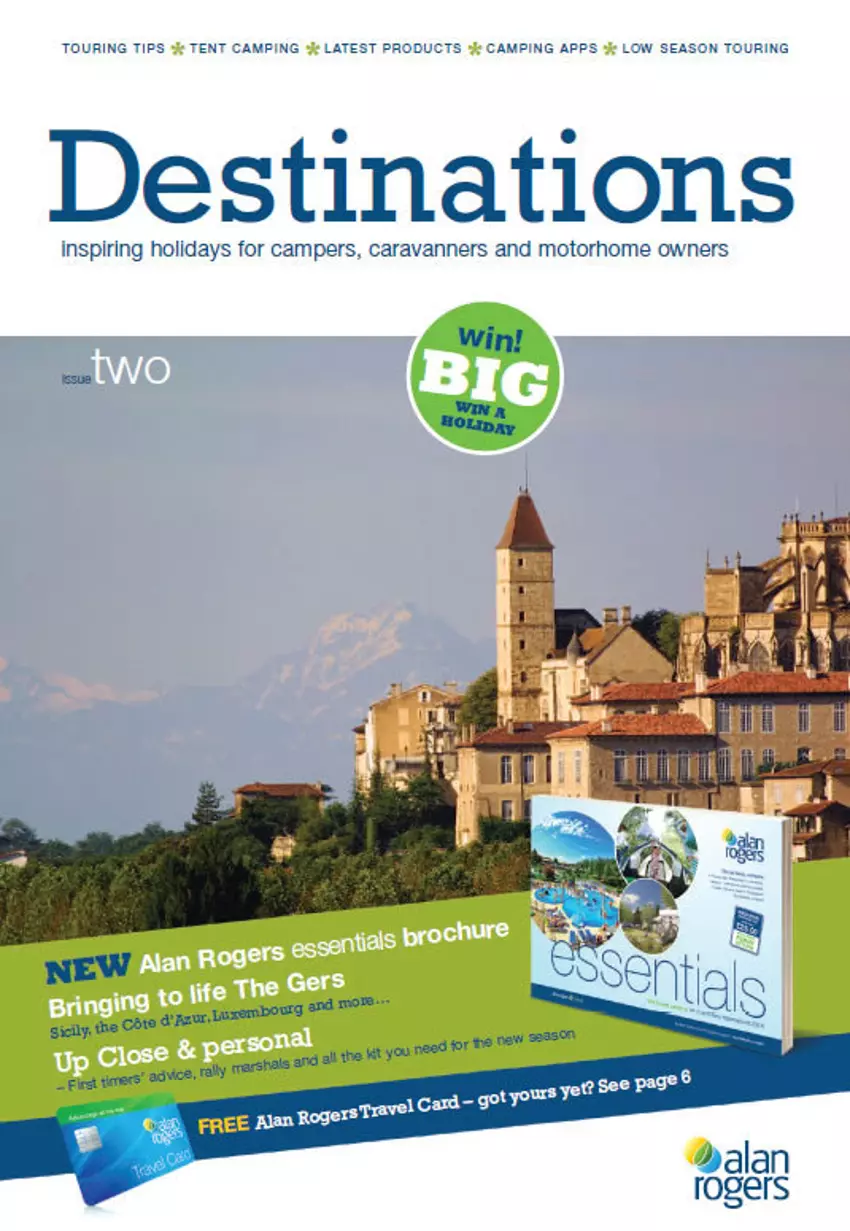 Autumn 2013
We launched our first edition back in December. Such was the demand that we ran out by mid-summer and already we have revised publication plans for it.
Now twice-yearly (October and February), it stays true to the original concept: a colourful magazine that's easy on the eye, full of inspiring holiday ideas and great campsites. Or aim remains simple: to inspire, to entice, to intrigue and to challenge...
Contents:
Bringing to life...
The Gers,Sicily, the Côte d'Azur, Luxembourg and more...
Up Close & personal...
First timers' advice, rally marshals and all the kit you need for the new season
Destinations Issue 1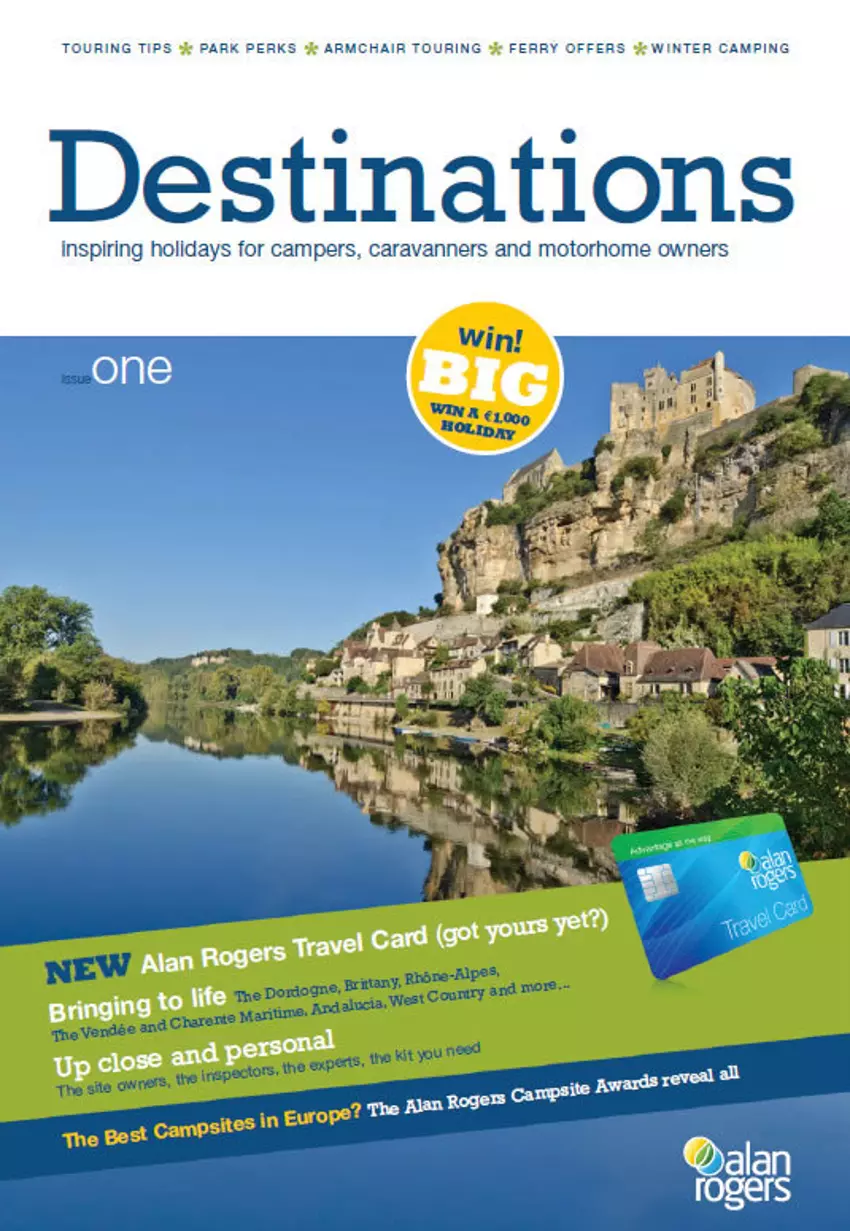 Spring 2013
This is a new magazine, with a twist. It's all about the experience, the atmosphere, the freedom and the F.U.N. of a campsite holiday.
Our aim is simple: to inspire you, to entice you, to intrigue you. Possibly even to challenge you!
Contents:
Bringing to life...
The Dordogne, Brittany, Rhône-Alpes, The Vendée and Charente Maritime, Andalucia, West Country and more...
Up Close & personal...
The site owners, the inspectors, the experts, the kit you need...