It can be difficult to know what to do when it comes to holidaying and our pets. Luckily there is a holiday solution that is the perfect type of holiday for us and our pets - Camping!

There are so many exciting and beautiful places to see in the UK that you can holiday for years and still never get bored. Whether you love history and exploring our rich culture, trips to the seaside for lazy days by the ocean or long hikes through the countryside there is a camping trip just waiting for you, and many of them are perfect for dogs too.
A camping trip in the UK might be a perfect idea for a dog-friendly holiday, but that doesn't mean there aren't still a few challenges to overcome. Your poochy pal is worth the effort, and you can find a holiday that not only fits your dog's needs but your needs too with a few of these handy tips for having a great holiday with your family and your dog.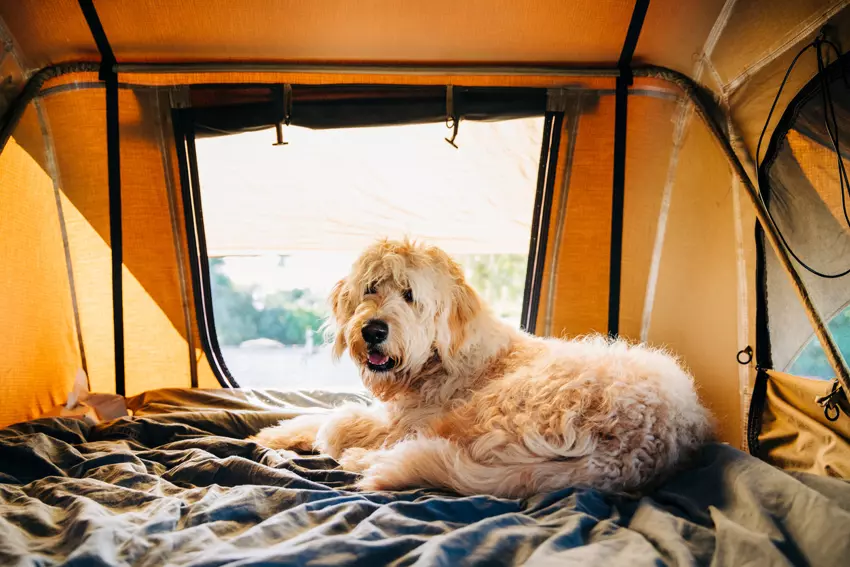 Pick a great dog-friendly area
The UK is generally a dog-friendly place but not everywhere is perfect for dogs. Cities and large towns may not be good options, but there are still plenty of other options.
An area close to plenty of countryside and different walks is an excellent choice for having fun days out that can include your dog. The UK is lucky to boast some of the most beautiful scenic trails through different countrysides and landscapes. You can choose mountain walks or coastal paths and often you can pick locations with access to both of these and much more.
If a holiday close to the sea is high on your priority list, then check your area for dog-friendly beaches. Many beaches have restrictions on when dogs are allowed on them with some not allowing dogs at all during busy seasons. Take a look at the website The Beach Guide for information on which beaches are dog friendly but make sure when you go on holiday you also check the signs at the beach in case any restrictions or rules have changed.
Find a dog-friendly campsite
Step two of planning your dog-friendly camping trip is to find a dog-friendly campsite to stay on. Not all campsites will accept dogs, so make sure when searching online that you tick the option to show only pet-friendly campsites.
Once you have found a list of campsites in your chosen holiday destination area that accept dogs, it's time to check the amenities available for your dog and also for yourself. At this point, it is also worth having a glance through the rules of the campsite to see what you are and are not allowed to do. For example, most won't let you leave your dog unattended or have strict lead policies that you need to be aware of.
Don't forget to make sure you will enjoy the campsite as much as your dog. If having access to certain facilities or local amenities is important to make sure you pick an option that has those as well as being dog friendly.
Luckily we have made this process simple for you, and you can easily find a dog-friendly campsite from our great selection at Alan Rogers. You can easily filter the options that are important to you to find your perfect pet-friendly campsite!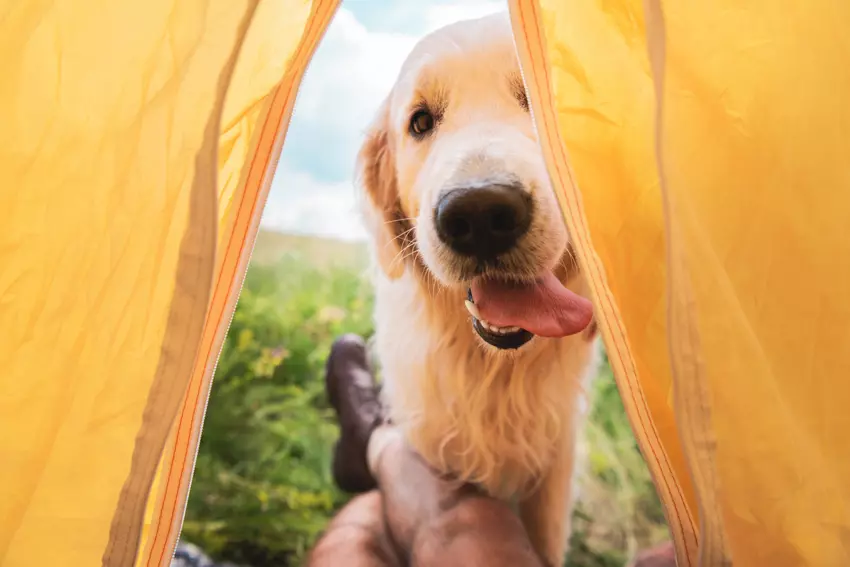 Plan ahead by finding dog-friendly pubs and things to do
When planning your camping holiday, it is always worth checking out the local towns, villages and amenities. The chances are that you will want the odd meal out or be able to pop to a pub for a quick drink while on holiday. Don't set yourself up for disappointment when you put up your tent or park your caravan and then head to the pub for a celebratory drink only to find that they don't allow dogs. Most local pubs and cafes will advertise if they allow dogs in so check websites and Facebook pages before heading out on holiday.
When dealing with the ever-changing Great British weather, it is always a good idea to have a backup plan in place for any rainy days you get while camping. Make sure you pack plenty of waterproofs and towels and don't forget your wellies! Or, you could make sure you have a few dog-friendly tourist attractions and things to do on hand to make any unfortunate weather days you get a little easier.
Some museums and attractions allow dogs so check out a few local to your campsite. You could be surprised at the number of options you have for things to do! Visit Britain has some great advice on all kinds of topics about holidaying in the UK and can help with finding some great things to do.
Things to take on a camping trip with your dog
When you have your area and campsite picked out and booked its time to start thinking about packing and all the things you might need. In addition to packing for your holiday, you need to make sure you have these essentials for your dog.
Leads and collars for walks and keeping to any leash rules of your campsite. You can buy stakes or anchors that you put in the ground that are designed to attach a dog's leash so you can allow them a little freedom while still being on a lead around your tent or caravan.
Food, water and bowls. In addition to their usual food and water, bowls don't forget to take water bottles and travel bowls too for your days out and long walks.
Plenty of doggy poop bags! You will need to keep the area around your camping spot clean and tidy as well as have plenty for picking up after your dog on days out.
Extra towels. When it comes to dogs and camping, you can never have enough towels. Muddy paws and wet dogs are not pleasant in enclosed spaces, so make sure you bring plenty to wash and dry and spares.
Blankets. For your dog to get comfy on but also to keep car seats and caravan floors and furniture free from dog hair.
A dog tent or crate. Your dog will need somewhere comfortable and warm to sleep and relax in. There are plenty of options for you to buy or if you have space in your tent, take your dog crate with you for a perfect bed and place to put your pup when you need to keep them from running about too much.
Treats. You will need to keep your dog well behaved, so you don't upset other campers and holidaymakers. Plenty of rewards for good behaviour is a great way to ensure your dog is well behaved when you need them to be.
Toys. You don't want your dog to get bored, so make sure they have plenty of access to things to do.
A camping trip is all the more perfect if you can take your furry best friend with you - in fact, we would go as far as to say that camping holidays were made for dogs! Fresh air, long walks in interesting locations and stunning scenery. To top it all off, you get to spend valuable time together - perfect!
With more and more people choosing a staycation camping holiday instead of foreign holidays and travel options that are further afield there has never been a better time to pack your camping and outdoor gear and head out for a camping holiday in the UK. It's a bonus that you can take your dog and let them have a holiday too.
Luckily, for dogs and their owners, there are quite a few dog-friendly campsites dotted around. Here are just a few of them:
Woodlands Grove Caravan & Camping Park
Totnes, Devon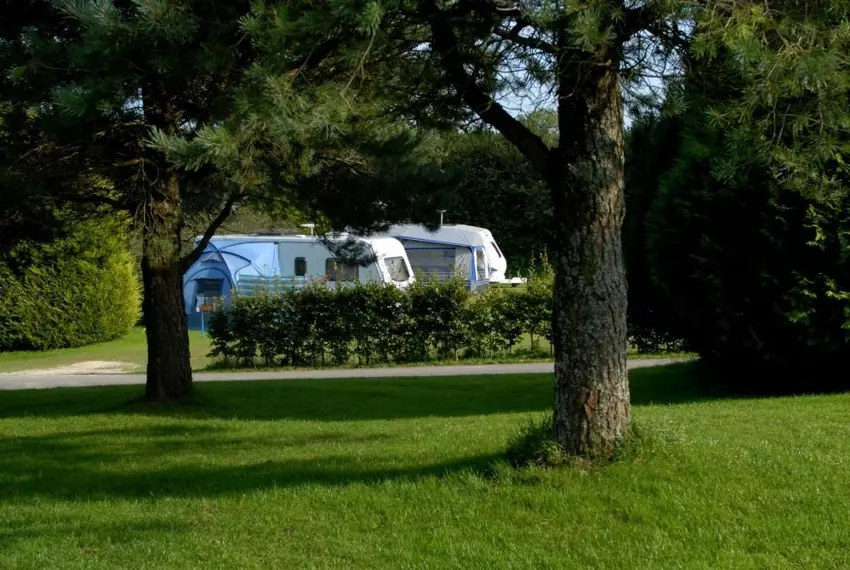 If you are looking for a family adventure, then look no further than Woodlands Grove in Devon. Hidden within a leisure park, this is a park with a difference. Children will love the adventure play equipment available, water coasters, an indoor play centre and plenty of rides. The whole family will find some relaxation with a stroll through the woodland to visit the pretty ponds, which is a lovely peaceful area to enjoy. There might be a charge for access to the leisure facilities, but some stays will include this - so check when you book.
The best thing about this park is just how much you have to do. You can bring your family, your friends and your pets too for a thoroughly enjoyable camping holiday that everyone can enjoy - including the dog.
The Orchards Holiday Caravan & Camping Park
Yarmouth, Isle of Wight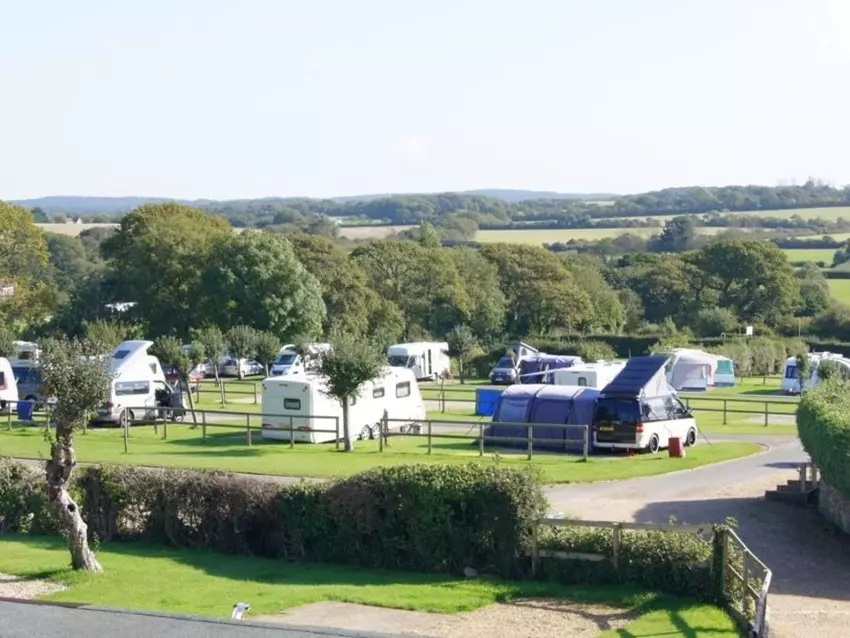 For those of you looking for a quieter campsite with excellent facilities but without the hustle and bustle of the family entertainment-focused campsites then The Orchards is a great choice. This park is situated in a village location not far from Yarmouth, which is an ideal base for experiencing the many beauties and activities that the Isle of Wight has to offer. Locally there are all the amenities and facilities you would want for a relaxing camping holiday including a supermarket, art galleries, shops to explore and cafes to enjoy, access to walks, cycle rides, golfing and even birdwatching. This campsite has two beaches nearby so perfect for those who love a mix of nature and spending days at the beach.
The park itself is well facilitated too with a sanitary block with underfloor heating, a family bathroom and shower room, laundry services, a well-stocked shop, games area, a coffee shop and an indoor heated swimming pool. You might find you don't want to leave the campsite at all.
Your canine best friend is well taken care of too with a separate dog walking area on site. The Isle of Wight is an excellent opportunity to take your dog on long walks as you explore the island and you will fall in love with the area too.
Ashes Exclusively Adult Caravan Park
Kendal, Cumbria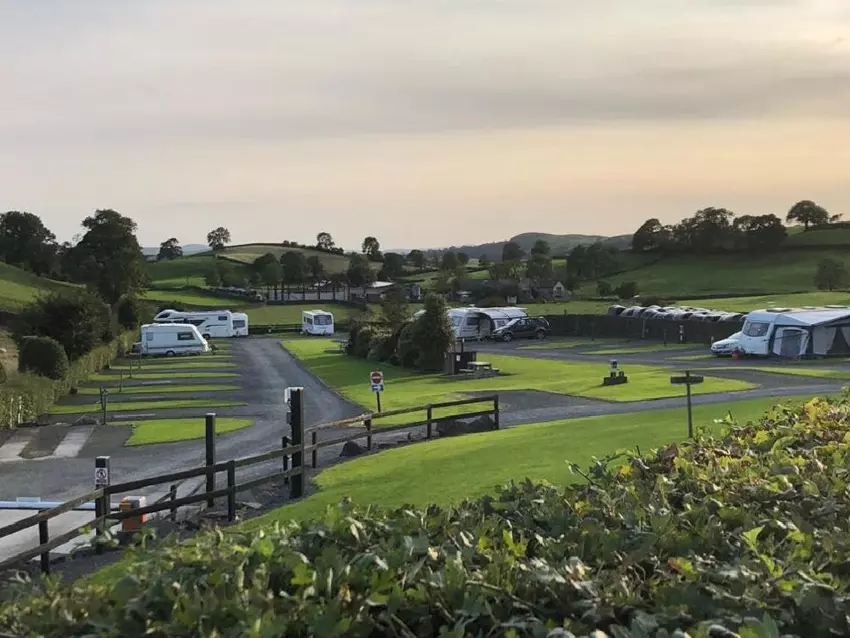 When camping with your dog sometimes all you want is a place to sleep and all the comforts that your touring caravan has to offer and a place that you can pitch up in a quiet caravan park safe in the knowledge that you won't be disturbed by entertainment or families. Ashes is a small adults-only park that provides precisely this.
Situated in the Cumbrian countryside, this is a park that is ideally situated to explore the Lake District and the beautiful rolling hills of Cumbria. The park itself might not have on-site facilities and entertainment that the larger sites enjoy, but you can explore the nearby area for places to eat and drink. Other than a great place to sleep, scenery to explore and nearby facilities, what more do you need for a dog-friendly camping holiday?
Cwmcarn Forest Drive Campsite
Newport, South Wales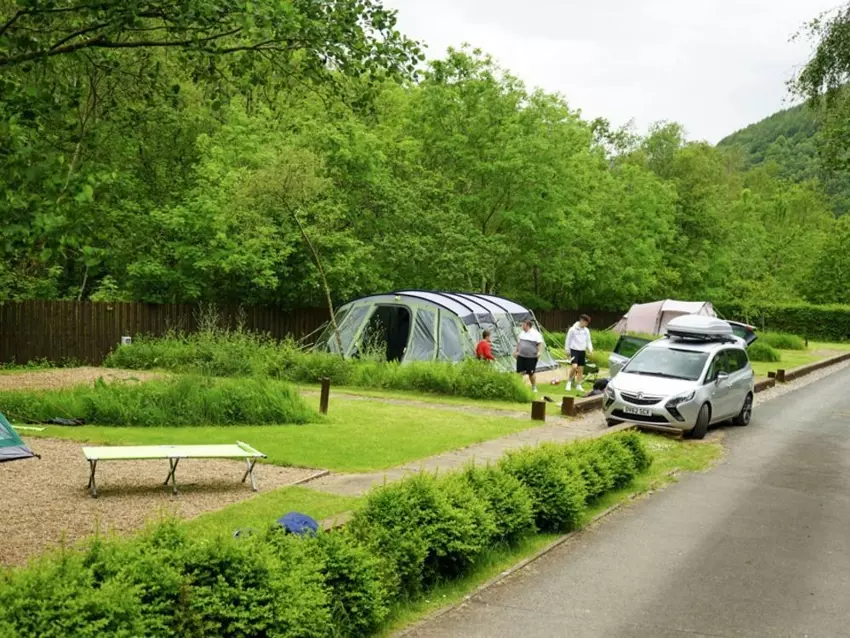 Nestled into the heart of the Ebbw Vale Valley is Forest Drive Campsite which is run by Caerphilly council. This campsite is a great choice for nature lovers who want to explore the beauty of not only the Ebbw Vale but the whole of South Wales. If you prefer you can book yourself a camping pod for a glamping experience for a little added luxury on your holiday.
With forest on your doorstep, this is a superb location for you and your dog. You can make the most of the forest walks nearby, explore the ancient hill fort and learn more about this beautiful area.
Blair Castle Caravan Park
Pitlochry, Perth and Kinross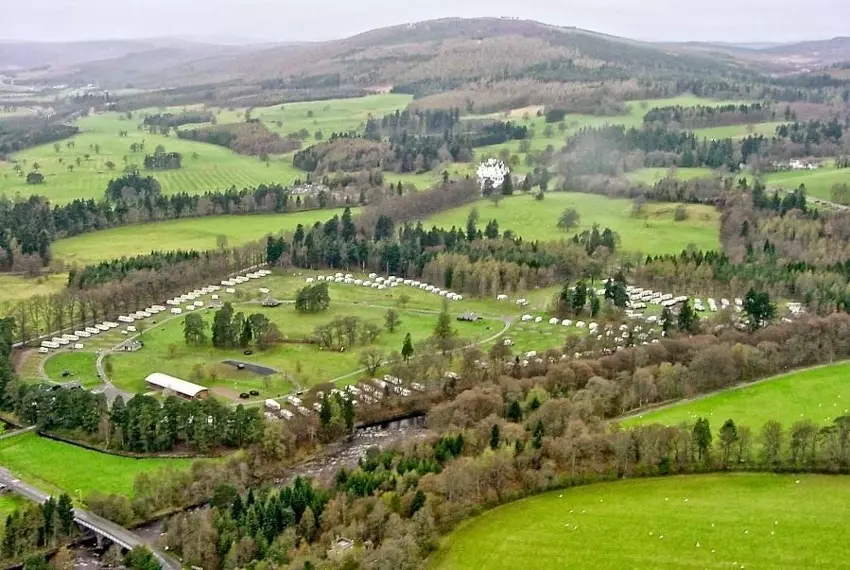 A camping holiday at Blair Castle Caravan Park is a camping experience with a difference. You are situated in the grounds of Blair Castle, an impressive 700-year-old castle surrounded by 18th century landscaped gardens, forest and fields. Its perfect location to explore Scotland and its natural beauty. Pack up your tent, your caravan or if you prefer take one of the glamping options available and then take the opportunity to walk and explore the castle grounds to your heart's content. You can even take a trip to visit the castle which is open to visitors, and as a visitor to the site, you will receive a discount card to use during your stay.
The campsite has some excellent facilities on-site, and you can enjoy riding on site, plenty of walks, on-site bicycle hire and a well-stocked shop. Nearby there are even more facilities and activities to enjoy, and you can find most outdoor activities available in the nearby location. If you want to take a trip to Scotland with the whole family, including the dog, then this is a great location and caravan park to choose.
Visit our Travel Advice Hub
Want advice about travelling to the EU? Worried about COVID-19? Got a question about staying green on holiday? Our Travel Advice Hub has the answers.