Equipment for a Skiing Holiday
Essential Camping Equipment You Need When Skiing
Sleeping And Relaxing
Where you will be staying is one of the most important things you can consider when planning your skiing holiday. Whilst you can stay in a tent and some campsites do offer this facility it is worth thinking very hard before you do so in winter. It takes specialised equipment to camp in cold weather, and you will need to ensure you stay very warm at night.
If you are planning on staying in a tent, make sure you have one that can withstand the extra cold weather and the winds you might experience. For touring caravanning or hiring a caravan or lodge, you still need to ensure you have extra blankets, sleeping bags and suitable sources of heat to ensure you stay warm, dry, safe and comfortable while on your skiing holiday.
Staying Warm At Your Camp Warmth and different methods to stay warm are such an important part of a skiing holiday you may find it crops up fairly often in this article. In addition to sleeping and keeping warm at night, you need to consider those times you are relaxing, cooking, eating or just recuperating after a long day on the slopes. Make sure you take plenty of blankets to keep warm and plan to have campfires and bbq's to help you keep warm. Thermal blankets are a must and you should also keep a couple of emergency thermal blankets with you for when you are out skiing. If you can get some safe solar panel heaters suitable for camping, this can also help to keep your camp warm. Remember CO2 kills, so no lighted stoves inside your tent.
Cooking And Eating
Eating and drinking are one of the pleasures that go hand in hand with a skiing holiday. You can always book yourself onto a camping ski resort where food is available on site. This ensures you can have a hot meal every day without the hassle. If you want a little more freedom then you may want to consider cooking for yourself. For this you need to make sure you bring your pots, pans, camping stoves, camping bbq's and methods to cook with you. You also need to make sure you can bring or source food to cook. Don't forget to also bring any cleaning equipment you need such as washing up bowls, wet wipes, anti-bacterial wipes and things to clean with.
Extra Equipment You Might Need
Safety is important so make sure you have a suitable first aid kit for your campsite. Consider including plenty of pocket-size emergency blankets, burn dressings and of course all of the usual base first aid kit you would need when spending your day doing lots of activity.
On the subject of safety its also a must to take paper versions of your maps, plenty of torches, spare batteries and lighting options. You should also include some matches stored in a dry box that won't allow moisture to penetrate. Grab you and your family some whistles to attract attention if needed and make sure you always leave your routes and details with someone before heading out on your own.
Invest in some good solar panel phone and device charging options, these can help keep you connected, make your life easier and they may even save your life if you need to call for help in an emergency.
Essential Skiing Equipment
Once you have finished packing up your camping gear, it's time to make sure you have everything you need for your skiing trip. This is a whole lot of equipment all on its own so make sure you spend some time checking your list and making sure everything is in working order before packing up and heading out on your skiing holiday.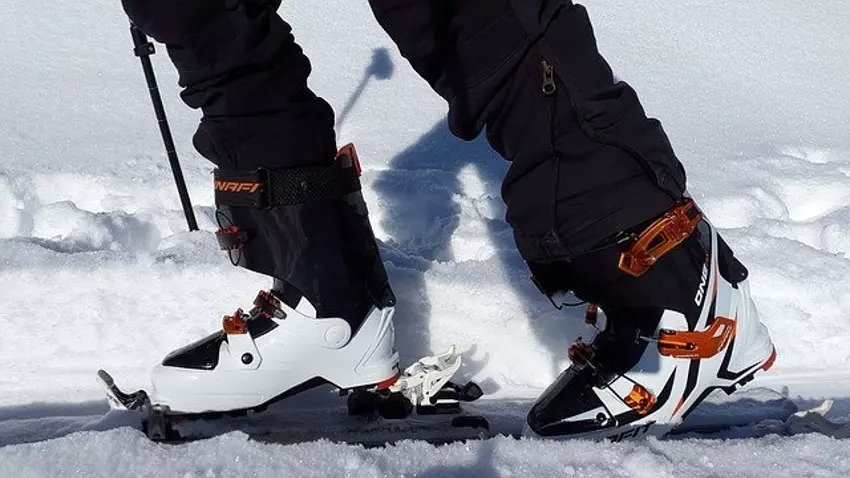 Clothing And Keeping Warm When Out Skiing
Your clothing is important when skiing. You need to keep warm, dry and safe and having the right clothing goes a long way in helping with this.
Make sure you layer up appropriately. You need a base layer of thermal underwear followed by a layer of more warm clothing and an outer layer where you finally put on your jacket, skiwear, hats, gloves and scarves to keep warm. This may seem like a lot of clothing, but it is important not to skip out on any of these layers. You also need to make sure you take spares so that you can dry out clothing and have plenty of clothing to wear for several days of skiing.
Your ski boots are also essential. These keep you warm, and they also provide the necessary support you need to ski safely. Make sure you get boots that fit your skis, or hire out the equipment you need when you get to your ski resort.
Essential Safety Equipment
When you go skiing, you also need to take extra equipment with you. A lot of this equipment is there to help you stay safe or help you out in an emergency. There is always a risk in any outdoor sport, and skiing has some obvious risks you need to mitigate as much as possible.
The first thing you need to consider is to take a backpack with your that can stay dry and withstand the weather while you are out.
Make sure you carry an appropriate first aid kit with you. This needs to include emergency blankets, bandages and a survival bag. You can never have too many thermal emergency foil blankets; these can save your life if you get lost or stuck and need to wait for help.
You also need to ensure you have any avalanche safety gear with you if you are skiing in an area where avalanches may happen. You may also want to include whistles and equipment to help draw attention to yourself too.
In addition to the ski safety specific equipment, it is also worth taking some sun cream with a high SPF. It is amazing how easy it is to get sunburnt in the bright white snow! You may also want to take lip balms and moisturisers to help combat any dry skin you get due to the dry wind. Don't forget helmets and ski goggles too.
One of the last things to pack is your food, snacks and water. These are essential to keep your energy levels up and ensure you have enough with you if you need to take shelter for a while or get lost and need to wait for help.