Meet the Survival Experts
The Wild Camping Blog
MEET THE SURVIVAL EXPERTS
If you want to pick up the very best survival tips ahead of your next camping trip or outdoor adventure, it makes sense to learn from the best. Whether you're planning your first-ever expedition or you're a seasoned explorer, your knowledge and skillset can be greatly enhanced by conducting the right research. The first step is to find the right people for inspiration.
Here are some of the best-known survivalists that you can look up to ahead of your next trip. Watch their videos, read their guides, and listen to their audio interviews. From developing a new technique to gaining a deeper understanding of nature, the benefits can be huge.
LOFTY WISEMAN John "Lofty" Wiseman was born in 1940 and is an author and TV personality who has enjoyed a thriving media career for over 35 years. However, his life as survivalist started long before then. In fact, at the age of 18, he became the youngest person to ever pass selection for the SAS, where he eventually gave over a quarter-century of service.
Upon leaving the SAS in 1985, the ex-Warrant Officer released his first book The SAS Survival Handbook. While many of his books, television appearances, and survival consultancy work does have a focus on the military aspects, Lofty's skills – particularly in relation to making food from unlikely findings – can be embraced by general campers and outdoor adventurists.
Wiseman's work as a consultant ahead of 1990 film Memphis Belle inspired Harry Cornick Jr. to write Lofty's Roach Souffle while his advice played an integral role in the selection and training phases of the Castaway 2000 show for BBC One.
His demeanour on-screen and writing is clearly influenced by SAS work, which makes his work particularly useful for anyone planning to take on a survival course or experience rather than a general camping trip. In fact, Wiseman is a long-standing member of the Trueways Survival School, which runs several of those courses for people with a clear interest in this field.
This includes those that may wish to start a career in the military. With over 26 years of experience in the field and 30 years of continuous learning to support a thriving post-service career, Wiseman's work covers specific roles and tasks as well as a more generic approach to survival in the great outdoors.
Wiseman's list of books includes; Ultimate SAS Survival, The SAS Self-Defense Handbook: A Complete Guide to Unarmed Combat Techniques, The SAS Urban Survival Handbook, The SAS Driver's Survival Handbook, Outdoor Survival, and SAS Self-defence Manual.
RAY MEARS Surrey-born woodsman, bushcraft, and survival expert Ray Mears is a TV personality that first hit the UK screens in 1994, having launched his bushcraft course company over a decade earlier. Born in 1964, virtually all of his career (save a brief stint working in London) has been focused on survival techniques.
His extensive body of TV works includes several highly popular shows. The biggest and best were Ray Mears' World of Survivor, Ray Mears' Extreme Survival, Ray Mears' Bushcraft, Ray Mears Wild Goes Walkabout, Ray Mears' Northern Wilderness, Survival with Ray Mears, and Wild Britain with Ray Mears.
Mears is a keen bushcrafter, often using a fascination and knowledge of the world's various indigenous people to find ways of living off the land. This can manifest as building shelters, finding safe food, and defending himself against the surrounding threats.
While his appearance ticks the 'gentle giant' box, Mears certainly boasts a strong survival gene. In 2005, he survived a helicopter crash in Wyoming, Canada. Not only did he escape, but we managed to save his colleagues. This example is backed up with several others where his survival mode has kicked in.
Mears is particularly skilled with a knife, using it to build shelters from wood, vines, and other materials. Many of the skills he teaches are ideal for campers in the wild, either as a backup for when their tents rip or to handle additional tasks like starting a fire.
While some focus on extreme situations that viewers are unlikely to encounter, Mears' work is far more accessible to the general trekker or adventurist. As well as the knife skills, his understanding of how people should react when a fellow explorer gets ill is very strong too.
ED STAFFORD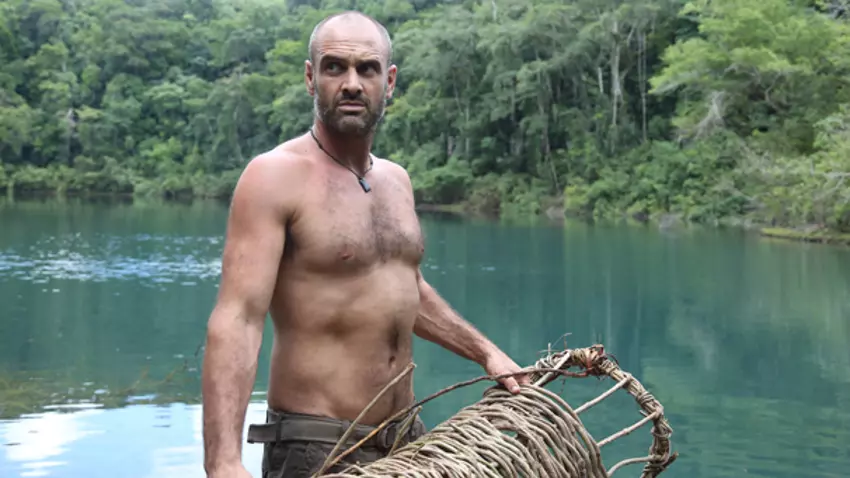 Born on Boxing Day 1975, Edward James Stafford is a Guinness World Record holder for being the first man to walk the length of the Amazon River, which he achieved in 2010 following the completion of a 2-year and 4,490-mile trek. The feat alone underlines a third for adventure, and the survivalist has since become a major face of the Discovery Channel's survival-related programming.
The 2011 Adventurer of the Year appeals to modern explorers, documenting his travels and survival tips via blogs and vlogs as well as more traditional means. His first big TV show Ed Stafford: Naked and Marooned, saw him stranded on a tropical island for 60 days without anything but his skills. His ability to make shelters and use natural surroundings to their full potential is incredible.
Success from the show resulted in a book as well as several subsequent TV shows such as Marooned with Ed Stafford, Ed Stafford: Into the Unknown, Ed Stafford: Left for Dead, and Ed Stafford: First Man Out. Through the course of those shows, the Peterborough-born survivalist travelled to contrasting extreme settings to display survival techniques for virtually all scenarios.
Stafford's talents don't only cover extreme situations that few people will find themselves in. He also gives detailed insight into ideas that can help casual campers, trekkers, and explorers. Turning seawater into freshwater through a natural filtration system remains one of his most memorable.
Following two years away from the world – other than his trekking partner during stages of the adventure – Stafford also places focus on maintaining a healthy mind in those survival situations, teaching viewers a range of meditation techniques.
Stafford is married to Laura Bingham, who led the first-ever descent of the Essequibo River in Guyana, South America. The couple, joined by Sir Ranulph Fiennes and Tim Peake, appeared on the front cover of British Airways' High Life magazine in 2017, a year before getting married. The couple also announced the birth of their first child in 2017.
LES HIDDINS Commonly known as "The Bush Tucker Man", Lee Hiddins is an Australian TV personality who is instantly recognisable thanks to his customised Akubra sombrero hat. The retired Australian Army soldier and war veteran showcases an intense knowledge of the Australian bush and outback but has shown survival techniques around the world.
Born in 1946, the Brisbane survivalist served in the Australian Army for nearly 40years, serving two stints in Vietnam during the second half of the 1960s. He retired from the Australian Regular Army in 1989 but continued to serve the Army reserves until 2001.
His media career took off with the Bush Tucker Man in the 1980s. Using the term "bush tucker" to describe foods found in the Australian bush, the survival show had a distinct focus on the techniques used to decide what food is edible as well as other ways to source food. Despite driving in a 4x4, the shows did incorporate other survival techniques such as finding shelter.
Hiddins other television credits include Bush Tucker Man – Stories of Survival, Pandora – in the Wake of the Bounty and The Batavia. Other works include published works Bush Tucker Man – Stories of Exploration and Survival, Bush Tucker Man – Tarnished Heroes, Explore Wild Australia with the Bush Tucker Man, and Bush Tucker Fieldguid.
The Bush Tucker Man was inducted into the Order of Australia in 1987 and gained an Honorary Doctorate of Science in 2008. As well as tips for adult explorers, Hiddins has penned several books for children while his website offers accessible tips for novices and young campers alike.
Hiddins was a key face in the first wave of media personality survivalists, and his distinct look and personality paved the way for the genre of programming to become increasingly popular.
BEAR GRYLLS Edward Michael Grylls OBE, better known as Bear Grylls, has been a highly popular figure in the industry for the best part of 25 years but truly became a household name around 2006 through television show Man Vs Wild (originally called Born Survivor).
The Eton-educated adventurist was born 7 June 1974, developing a thirst for adventure at a very early age, climbing Mt. Everest as a teen before joining the army in his 20s. At the age of 35, in 2009, he became the youngest ever chief Scout of the United Kingdom and Overseas Territories.
Grylls' macho appearance is reflected by a natural toughness, which was highlighted in 1996 when he survived a parachuting disaster when his chute ripped at 16,000ft. After breaking three vertebrae, he was told that he'd be lucky to walk again. Fast-forward to the modern-day, and he is an outright celebrity that has transcended the industry to reach the entire country's public consciousness.
His approach to camping and survival is often linked to his experiences in the army, teaching survivalists how to get through potential life and death situations. He often takes on extreme challenges in extreme climate conditions, finding ways to make the most of the natural surroundings to stay protected fro weather conditions and remain hydrated and fed.
Some of the most memorable moments include sleeping inside the carcass of a deer that he had killed and gutted or creating a water filtration system that extracted the liquid from animal dung into clean drinking water. Grim? Yes. But his ability to survive when all hope seems lost is nothing short of amazing.
The man may have a privileged background, but his books, television shows, and media career have generated millions for his young family. And that's on top of the thriving military career.
MYKEL HAWKE Mykel Hawke is a Kentucky-born ex-U.S Army Special Forces officer who was born in 1965 and started appearing on TV in the first decade of the century but has become a household name thanks to his hugely successful shows over the last decade.
Hawke boasts a solid military background, serving in the elite Green Berets. This toughness was shown once more on a filing trip in Mexico where he survived four days without any food or water – an experience that medical experts say should have killed him.
His Man, Woman, Wild series, in which he travelled with his wife Ruth England (a broadcaster) became a particular hit thanks to the unique concept as well as their chemistry. Hawke would get his wife involved in tasks (sometimes moaning when she made inevitable mistakes), ensuring that there was value for novices as well as experienced adventurists.
Subsequent series have included One Man Army and Lost Survivors. The latter, including England, left the couple abandoned in remote locations in which they would use their instincts to find their rescue. It's essential viewing for small travelling parties. In 2018, the Leonardo DiCaprio-backed series The Men Who Built America: Frontiersmen hit the screens with great responses.
Hawke's survival tips cover a wide range of elements from finding food to building shelter and circumnavigating alien locations. His understanding of medical demands is particularly strong too, with various tips on how to handle various danger scenarios.
The U.S personality has a distinct and engaging character while his ability to merge basic survival tips with extreme challenges creates exciting programmes with plenty of takeaway tips for campers and explorers of all backgrounds and experience levels.
THE FINAL WORD
Each of the above survivalists has their own approach to camping and various areas of expertise. Nonetheless, they are all united by an in-depth understanding of nature and the wild, along with a winning mentality and the ability to think logically about solutions and contingencies.
Develop those attributes while taking some of the distinct ideas mentioned above, and you'll be ready to start your next adventure with more confidence than ever.