Best campsites for the Chichester Harbour AONB
Here is our pick of the Alan Rogers Assessors, expert-recommended campsites for the Chichester Harbour Area of Outstanding Natural Beauty.
Boats and birds. These define most of Chichester Harbour AONB and ensure visitors keep coming. These are some of England's most popular boating waters, popular with dinghy sailors, yachties and all kinds of nautical types who enjoy messing about in boats. There are 14 sailing clubs and around 12,000 leisure boats to keep them occupied. As for wildlife, an estimated 55,000 birds are here throughout the year, including large numbers of Brent Geese, Dunlin and Little Egrets.
From the water, visit Bosham, one of the most attractive of the Harbour villages and where King Canute allegedly tried to turn the tide back. There's the added bonus of excellent tea shops.
With the backdrop of the South Downs, Chichester and the surrounding coastline is threaded with tidal channels, inlets and creeks that run through mudflats and salt marshes, reed beds and ditches. It may be the smallest AONB in the southeast, but there's plenty going on.
Top Chichester Harbour AONB Camping Options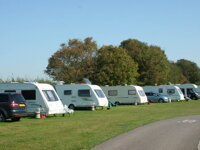 Nestled in a tree lined, park like setting, Rowan Park Caravan and Motorhome Club site is adjacent to a country park and just 2 miles... This small, neat site is just to the west of Chichester and north of Bosham harbour. Formerly an orchard, it is rectangular in shape with...