One thing you will know if you have been camping with a pet is that you need to take a lot of equipment with you. Your dog needs everything it would have at home plus a few extras to ensure everyone is kept safe, warm and dry.
Need help? We have a handy guide to help you pack for your pup. 
On-site
The first thing to consider when taking your dog on holiday is their safety. Camping is an exciting time for your dog. All the new sights, smells, people and new wildlife to chase and explore! They can quickly get over-excited and run off if you don't watch them.
Keeping your dog safe is a relatively easy task, make sure you keep an eye on them, have packed everything they need and be prepared to deal with any sticky messes they get into.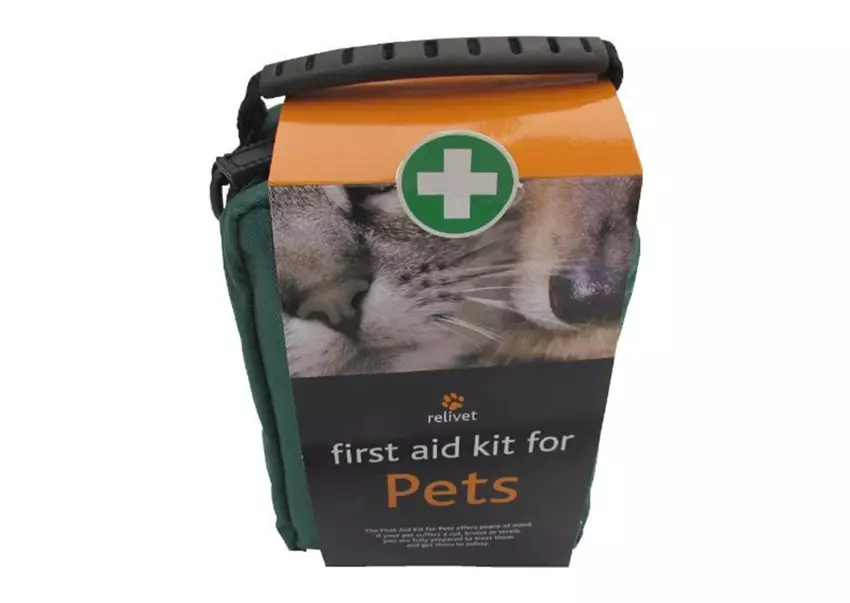 On a walk
Most of the time a camping holiday is nothing but fun and smiles, but occasionally things can go wrong, and your pup can find themselves with a minor injury. Most injuries can be dealt with quickly, and you can make sure you are well prepared by packing a pet first aid pack.
This kit contains everything you might need to keep any minor injuries clean and treated to allow your dog to heal and avoid infection before you can get to a vet.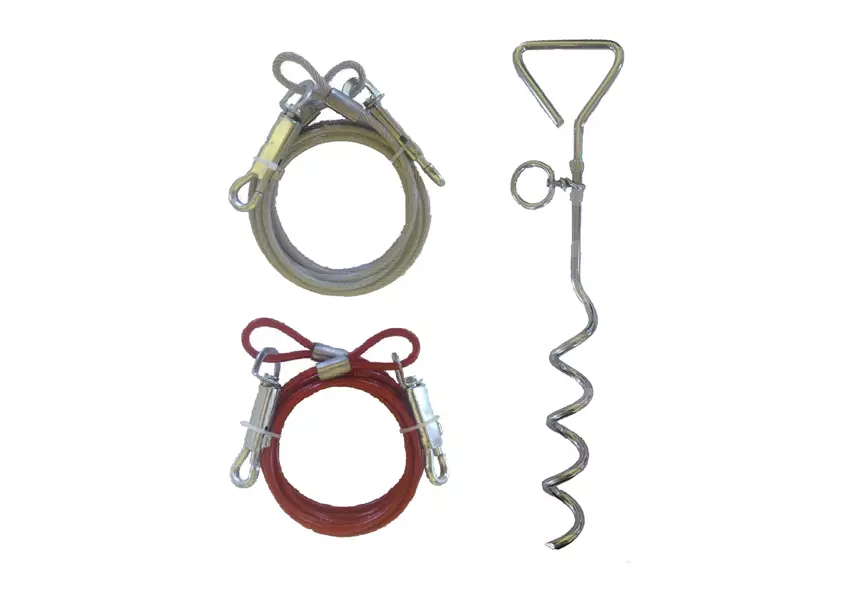 On a lead
Make sure you keep your dog on a lead around the campsite. Most campsites will insist on this to ensure everyone is comfortable and feels secure. As cuddly and lovable as your dog is, not everyone is going to want to make friends. Keeping your dog on a lead helps keep everyone happy, and it keeps your dog safer too.
When relaxing on-site, you can keep your dog on a lead and give them a little bit of freedom too, with a ground stake like this one.
This is a spiral stake you screw into the ground to give you a safe and secure place to tether your dog. This pack comes with some strong cables, or you can attach a suitable dog lead to the stake instead.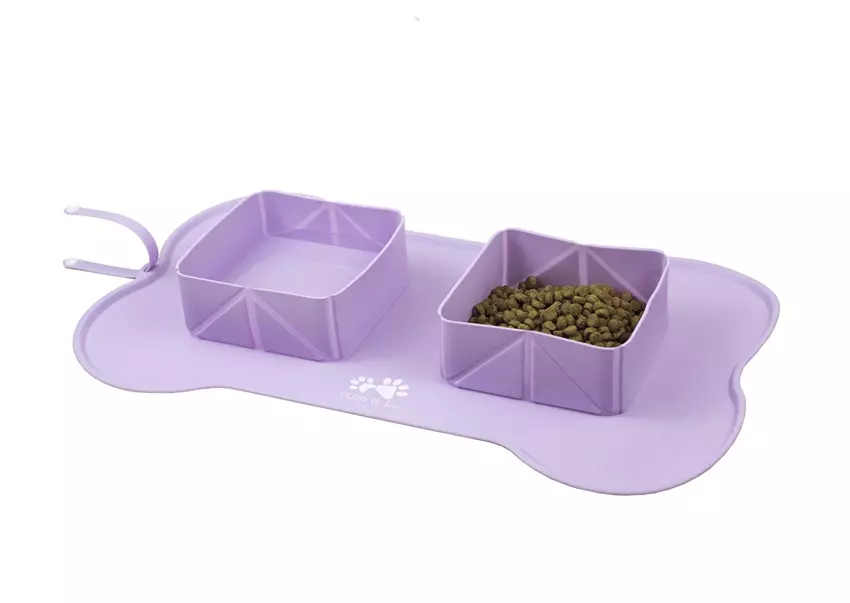 Creature comforts
One of the easiest ways to keep any pet happy is to ensure you have everything they need. Packing for your dog is just as important as packing for any member of the family, so write a list and make sure you have everything packed. You could even get your dog it's very own suitcase to make sure that nothing gets left behind.
Don't forget to pack treats, food and water bowls, toys and any of the usual items your dog enjoys.
If you camp regularly, then it might be with getting some specially designed travel options such as this travel feeding mat.
This is a silicone feeding mat that is foldable and rollable so that you can store it away neatly when not in use. When you need it, roll out the mat, and the bowls pop up and provide feeding and drinking bowls as well as a mat to catch any spills.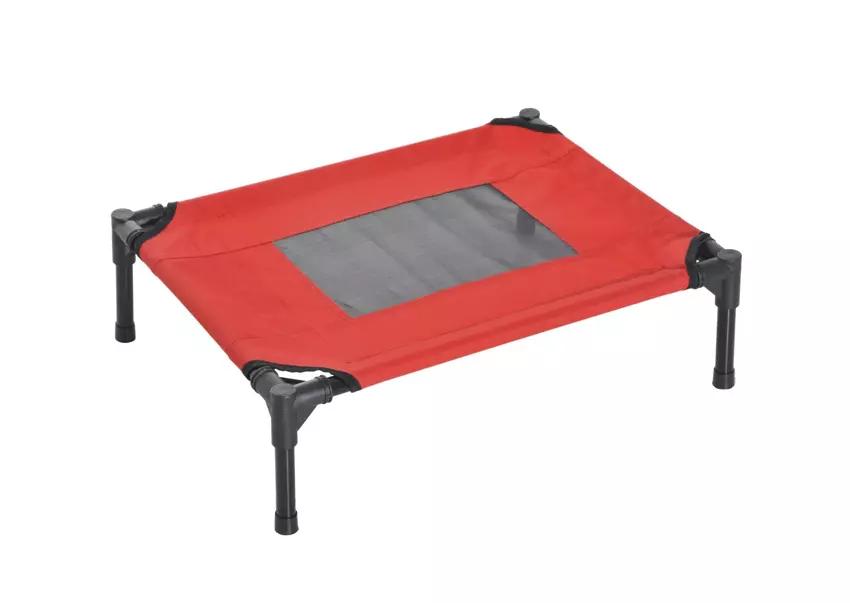 Sleeping arrangements
After a long day exploring the countryside or hiking through stunning scenery, every member of the family will be ready for some rest. Your dog needs rest too, so don't forget to plan where they are going to sleep.
It might seem like a great idea to have everyone together in one camp bed, but this can get uncomfortable and difficult fast. The best thing to do is to make sure you have it planned out in advance where everyone will sleep. Is there space for a dog crate in your tent or caravan? If not, how can you create space for a dog bed?
A pet travel bed is a fantastic option to give your dog a portable and comfortable place to sleep.
This elevated cot bed by Pawhut gives your dog its very own raised camp bed to relax on. This allows them to get off the ground for a comfortable nights sleep, and it is lightweight enough for you to move it around to wherever you need it easily. You might want to pack some blankets to pop on the top of the camp bed to ensure they are as warm and comfortable as possible.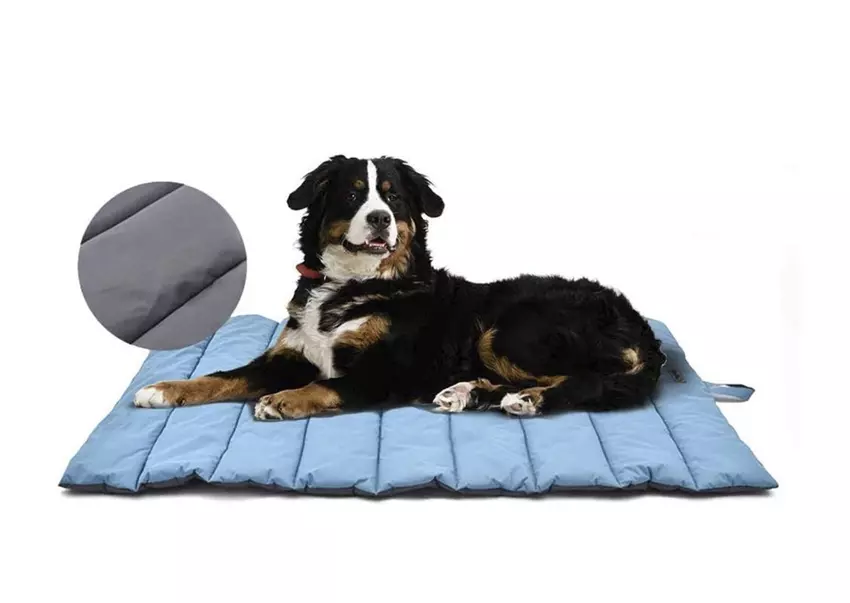 If you want another style of bed, then this one is perfect for camping and travelling. The soft cushioned mattress rolls up so that it can be stored away and packed when needed, and the durable material is designed to be resistant to spills and scratches.
Staying warm, dry and clean
If you are unlucky and get a little bad weather while camping, one of the biggest challenges is keeping everybody warm and dry. You have probably already thought of all of the things you need for yourself, but what about your dog? What do they need to help them keep warm, dry and comfortable even in the worst of weathers?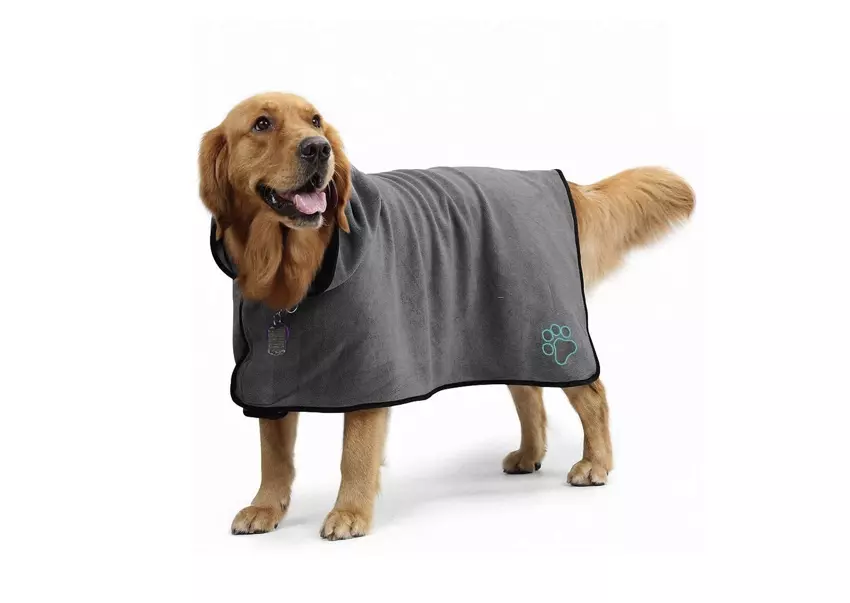 Make sure you take plenty of towels and extra blankets. Take at least double the amount you think you will need. Then you can always have some drying while others are in use. When it comes to camping no matter if it's for you, your kids or your dog, one thing is for sure - you can never have too many blankets or towels!
We love this quick-drying pet bathrobe! Pop the fast-drying microfiber robe around your dog to help them get dry and keep warm. The fabric is super absorbent and dries quickly.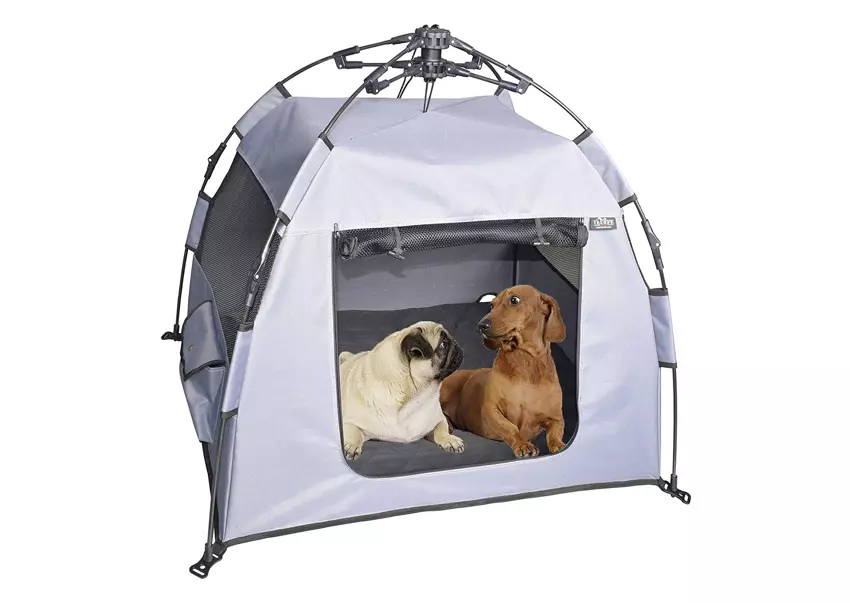 If you need some extra space, then this pet tent is perfect. In the rain, this is a great option to help your dog keep dry, and it can even be used as a source of shade if you have lots of sunshine. This tent is perfect for taking out with you and can be used on the beach or at the campsite. The tent comes with a mattress included for extra comfort and can be folded away for easy transportation.
For warmth and comfort, there is nothing quite as cosy as a sleeping bag and, you guessed it, you can get specially adapted bags for dogs! This one made by Ruffwear can provide some extra protection and warmth on cooler nights. Designed and shaped with dogs in mind - the fabric is water-resistant and quick drying and the shape is perfect to fit most breeds of dogs.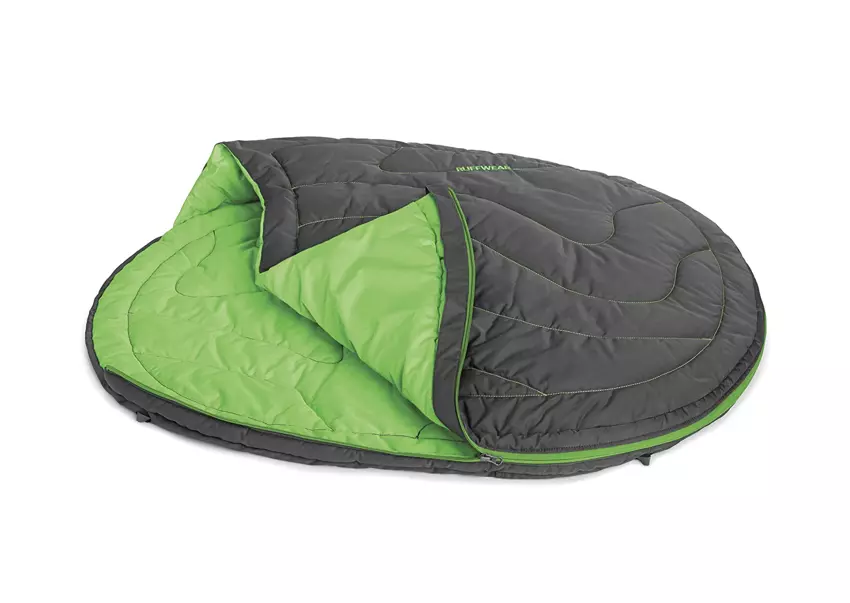 Keeping your pet happy when out and about
For a camping trip to be enjoyable, you'll most likely spend a lot of time out and about and exploring the local area. This can mean lots of walks, visiting tourist spots and often quite a bit of travelling in the car too. 
Wherever you go, your dog will be going with you so don't forget this when packing for your dog. 
You need to make sure you take the following.
Leads
Tether points
Blankets and places to sit
Treats
Water
Food and treats
Extra towels 
Water and food bowls
Disposable bags to clean up after your dog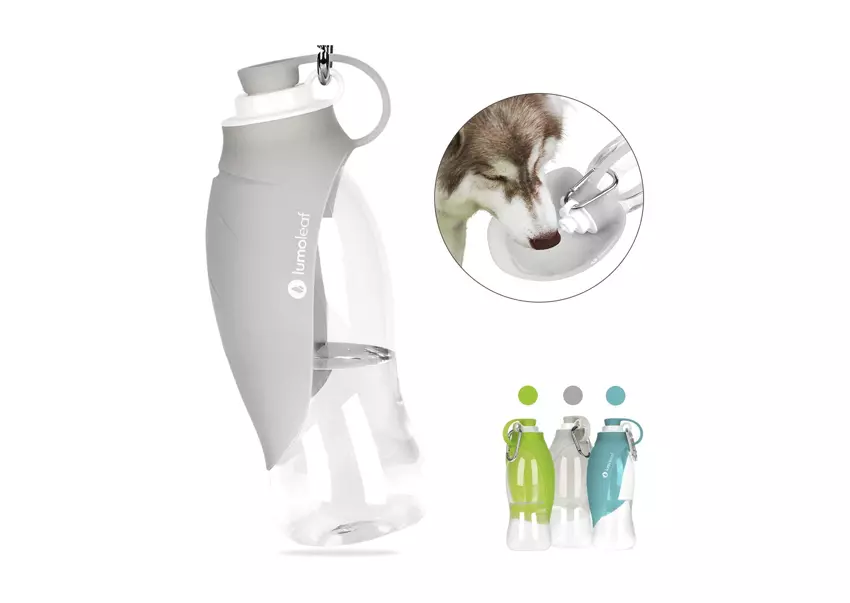 Of course, water and bowls are the most important things. A hot and dehydrated dog is not a happy one, and without water, they can quickly become ill. 
This water dispenser is perfect for taking anywhere. It is lightweight, easy to keep clean and is designed to be a bottle and water bowl in one. 
For feeding your dog, these collapsible silicone bowls are a perfect choice. When not needed you can fold them up so they take hardly any space at all and they come with a lid so that you can pop food into it and keep it fresh until you are ready to feed your dog.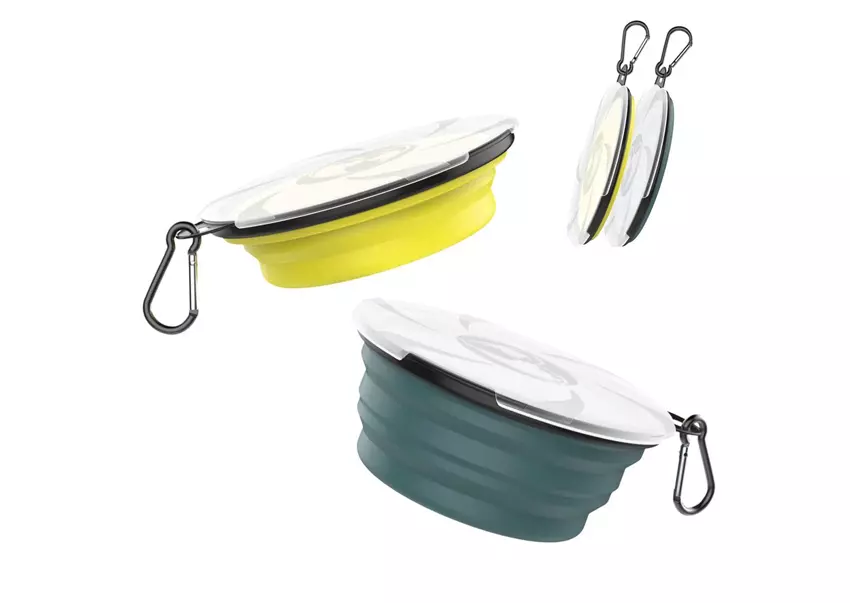 Ready to take your dog camping?
By now, you should be ready to take your dog on your next camping adventure, so the next step is to find the perfect campsite! When choosing a campsite, make sure that it is dog friendly and ask if there are dog walking areas and make yourself aware of the rules. 
You can check our online campsite finder and start looking for your dog-friendly campsite.
You may also be interested in these blogs