When you camp, your comfort entirely depends on what you bring with you, so it is worth spending a little time making sure you have everything you need.
What you need to take when camping will depend on the type of camping holiday you are having. Holidays in different weathers and different locations will require slightly different equipment. Here are some of the main types of camping holidays you might be going on and the things you need to think about.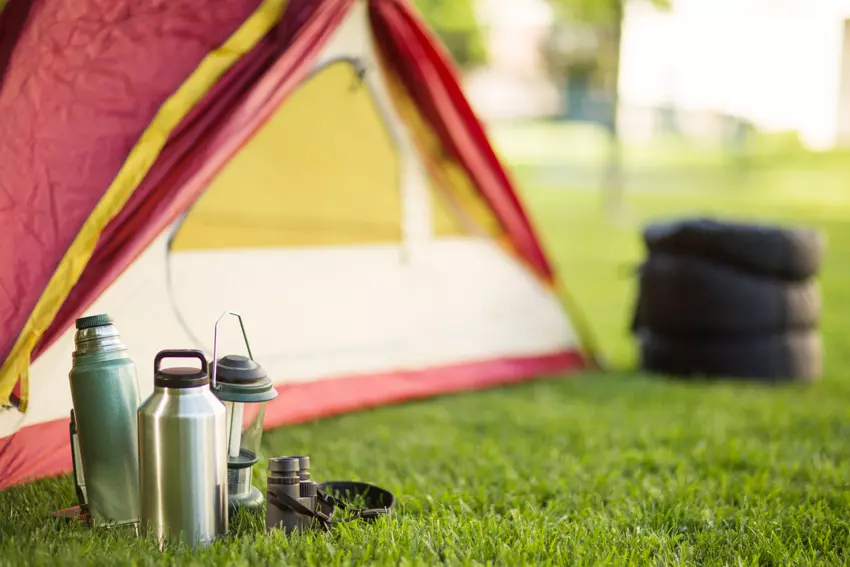 Packing for a tent holiday in the great outdoors
When you think about camping, the first thing that comes to mind is sleeping under canvas in the great outdoors with nature right on your doorstep. Most of us will only ever camp at a campsite. However, it still feels like you are getting back to nature, and you will need to ensure you have everything you need for a comfortable holiday.
How much equipment you take will depend on whether you choose one campsite as a base or travel from place to place, choosing a different campsite every night. If it is the latter, you will need to pack a little more lightly.
Your camping essentials
Your tent is the most important thing you need. Make sure it is packed and has been cared for before heading out. You also need to ensure you have enough guy ropes, tent pegs and a mallet.
In addition to your tent, you will need to ensure you have any extra accessories you need. You may need a repair kit and groundsheet, for example.
Take everything you need for a good nights sleep. This might be an inflatable mattress, camping cot or sleeping mats. Your sleeping bags are also important, and packing a pillow can make you a lot more comfortable too.
Camping chairs and a table are a good idea if you want to have a little comfort as you eat or play games together.
Your water carrier is another vital piece of equipment. Without it, then it's a struggle to get water from the communal tap to your tent.
Consider your lighting options too. You will need a torch, but you may also want a camping lantern or two to light the tent so you can read, chat or play card games before bed.
Packing the right clothes and shoes is essential. Many campsites have washing facilities which is a huge help and can help you pack a little lighter.
If you need access to your phone and devices, make sure you have some options for battery chargers. This could be battery packs or even a solar panel battery charger.
If you take a camping stove or BBQ, you have a few more options for food. Don't forget to make sure you have gas to go with your camp stove too.
Once you have packed your clothes, it's time to consider what else you might need. Don't forget your medication and any toiletries you need. Shower gel and shampoo are a good baseline, but how much you take will depend on your camping preferences.
Bin bags and toilet rolls are easy to forget, but they are vital if you stay in a caravan or motorhome or plan to go wild.
Keeping warm and dry
In addition to sleeping bags, you might want to take some extra blankets and throws. These are useful for sitting outside your tent in the evening and can provide some extra warmth at night if you need them.
Bring enough towels because you may need to dry off if it rains or if you go swimming. Being wet and unable to get dry can be a miserable experience.
Take waterproof clothing and lots of warm layers with you if you head out. You will need to take extra care if you are walking or hiking. Suitable clothing can be a lifesaver when out and about.
Changes of clothing is a good way to keep both warm and dry. If it rains, it's worth having a change of clothes at the ready.
If you want to protect your tent a little more, a windbreak is a good option. Pop it up outside your tent and give yourselves a little extra shelter from the weather.
Eating and drinking
You can take food with your or pop to a shop when you get to your campsite. You will need food that is easy to pack and carry and doesn't require keeping cold for too long. A cool box can keep things cool for a while, but fresh food will need to be eaten quickly. Cans of food make great options for easy meals that are easy to take with you.
You will need a suitable water carrier and some options for drinking water while you are on holiday. Cups, glasses and travel water bottles are essential to take with you.
You should remember (but will likely forget) a tin opener and bottle opener!
If you plan on cooking and eating at your campsite, you will need a camping stove and any cooking pans, pots, and utensils required.
Plates and bowls are also a vital part of your camping kit, as is the cutlery. Avoid using single-use plastic or paper crockery and cutlery; opt instead for bamboo or reusable melamine sets.
Once you have cooked your meals, you need to wash up, so take a washing bowl and washing up liquid with you. Some campsites may have a dishwasher or dedicated dishwashing facilities. Check before you arrive so you can pack accordingly.
For snacks and easy to carry foods that keep you going, take snack bars or protein bars. You can pop these in your bag and always have some handy for when you get peckish.
Staying safe
A torch is an integral part of your camping kit. It can keep you safe and help light up your tent in the evenings.
Sun cream and hats should be packed too, especially if you are heading to somewhere warm like a lovely holiday in Spain or France.
Handwash and antibacterial gels will help you stay clean and hygienic even whilst out and about.
Don't forget to take any medication you need. You may also want to pack some painkillers and insect spray.
A first aid kit is essential. Make sure you have one that includes your usual base items and a survival blanket. You might also want to have a larger first aid kit at your tent and have a smaller one in your bag if you are spending time outdoors.
Tissues and cleaning wipes are another good addition to your kit. They are useful for cleaning yourself and any equipment you use.
Camping activities
Taking things to do with you is a good idea, especially for evenings and rainy days. A pack of cards and some small and easy to carry board games will keep the whole family amused for hours.

Take small activities for your kids to do, such as colouring books and crayons.
If you like to write and note things, then take a notebook with you to jot down ideas and thoughts.
Take some wildlife or bird books or other items that help with a suitable hobby.
Group games such as football or tennis are great fun, and you might even get your fellow campers involved.
For more ideas, please take a look at our guide to camping activities.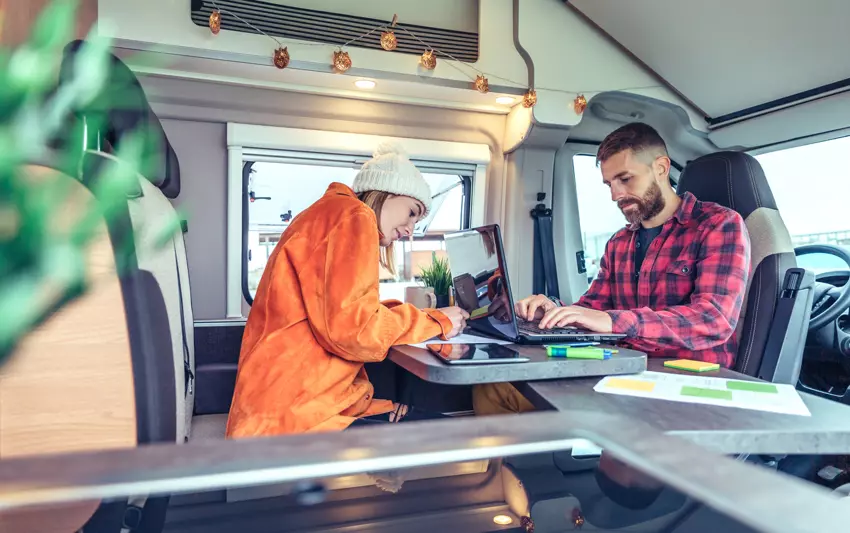 Packing for a caravan or motorhome holiday
If you are going on holiday in a caravan or motorhome, then the equipment you need is similar to when you are in a tent, but there are a few different things you might want to consider in addition.
Your essentials
You may not be in a sleeping bag, but you will still need bed linen and blankets. Don't forget to pack some pillows too.
Towels and personal items such as clothing, toiletries and any personal items you want to take.
Toilet roll is easy to forget, but you will need it; even if you use communal toilets, you will need to take your own with you.
Make sure you have enough gas with you to cook with and for any heating you have in your caravan.
If you have an electric hook up, don't forget to take any accessories you need with you.
You may also need some portable toilet chemicals if you have your own toilet in your caravan.
Food and drink
Even if you are in a caravan or motorhome, you are still likely to need a water carrier. Not all pitches have water hook up available.
Don't forget to take your plates, crockery, cutlery and cooking equipment with you.
If you have electricity available at your pitch, then you can consider taking a kettle and toaster with you too. This makes breakfast and hot drinks much more straightforward than boiling water over a camping stove.
Health and safety
You will still need to consider safety and take all of your medications and first aid kits as normal. You may also need a torch and battery charger to ensure your phone is fully charged.
In addition to everything mentioned in the camping section, you will also need a fire blanket and an appropriate fire extinguisher.
Caravan entertainment
In a caravan, you have a little space to play board games, card games and tabletop activities. These can be a lot of fun and bring the whole family together in the evenings. You might even be able to all do a puzzle together during your holiday.
If you have an electric hook up, you can play music or watch a little TV if you have the equipment to do so.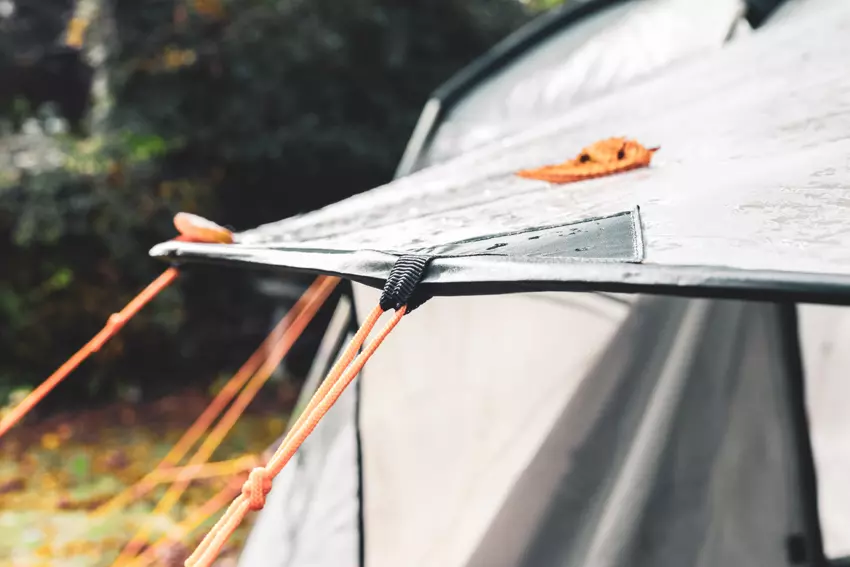 Packing for the weather
When camping or caravanning, the weather is always something to watch. It can change instantly, and if you camp in the UK, you need to be prepared for all kinds of weather. If you are holidaying somewhere with more predictable weather, such as in parts of Europe, you will still need to pack appropriately for the weather you are expecting to enjoy while on holiday.
Packing for sunny camping trips
When holidaying somewhere sunny, one thing to consider is packing your sun cream. A high factor sun cream can save your life and stop you from getting burnt and ending up in pain while on holiday.
Take a hat with you to keep the sun off your head. Sunstroke and heatstroke can ruin your day!
Pack plenty of cool clothing to wear, and don't forget your swimming clothing so you can take a dip in the sea or in the pool to cool off.
Staying hydrated is even more important on hot days. If you have a reusable water bottle with you at all times, you can make sure you get enough to drink. You will also need a good water carrier to ensure you have a good water supply in your tent or caravan.
Packing for colder camping trips
When you are expecting cooler weather, you will need to stay warm at night. A good sleeping bag and some extra blankets are crucial to reserve your body heat and stay safe.
While out and about, you need to have an appropriate coat and warm clothing. A windproof or waterproof layer is also a good idea to stay warm and dry.
When you pack your clothing, don't forget your hats, gloves, and scarves.
Thick socks for the day and some for nighttime can help you stay toasty warm no matter how cold it is outside.
If you are out and about, make sure you take food, water and a survival kit with you in case you get cold while outside.
For more information, take a look at our blog on winter camping and everything you will need.
Packing for rainy camping trips
Rainy weather is perhaps the most challenging weather to deal with when camping. Once you are wet and all your clothing is wet, you can struggle to get dry and warm! This is why you should take plenty of clothing and make sure you use any drying facilities available on the campsite.
Invest in some waterproof outer layers, including waterproof trousers and a decent coat. These will help you stay warm and dry even in wet weather.
If you have space and the equipment, take more than one pair of walking boots or wellies. This means you can let one pair dry out while wearing the other.
In addition to shows, make sure you have plenty of pairs of socks. Keeping your feet dry is the best way to keep warm all day long, so being able to change when you get your feet wet is important.