The Volkswagen camper van is easily one of the most recognisable camper vans around. They're also a popular choice for renovation projects. The Volkswagen camper van has evolved over time, with the first sketch created in 1947. The sketch was combined with elements of the Beetle and the prototype was revealed in 1949.
Believe it or not, the campervan didn't do as well as they thought initially. But, sales steadily increased as expected. 
Since its creation, Volkswagen have released over 6 different models spanning 70 years. Current models are a far cry from their 1950's predecessor. It has now abandoned it's 'campervan' qualities and has evolved into a van that offers enough space for it to be converted into a campervan instead.
Explore how the Volkswagen campervan has evolved in the below graphic made by Wessex Vans.
Click image to enlarge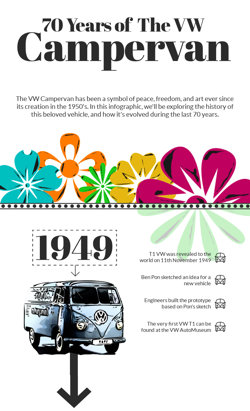 T1 VW was revealed to the world on 11th November 1949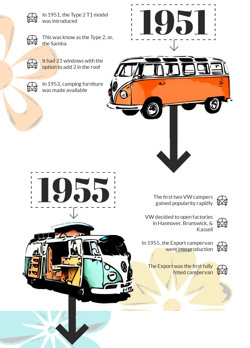 In 1951, a new model was released and four years later the Export Camper went into production.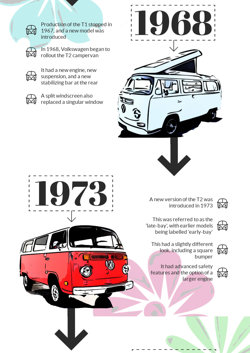 The T2 enters production in 1968, an upgraded version follows in 1973.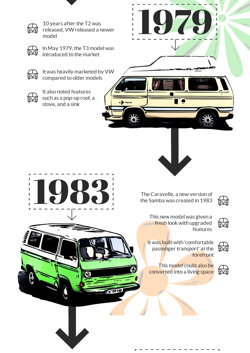 With an all-new design, the T3 is introduced in 1979. In 1983, an upgraded model of the Type 2 (1951) was launched.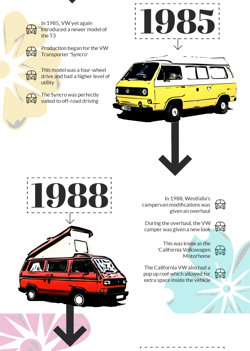 T3 launched in 1985 and the California VW in 1988.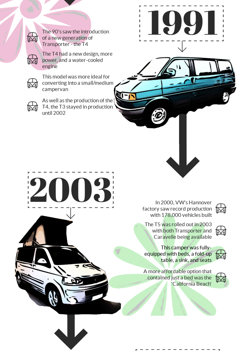 1991 saw the introduction of a newly designed campervan. It stayed in production until 2003, when another new model was rolled out.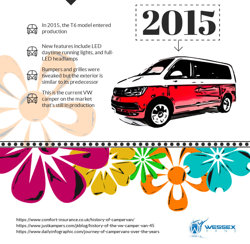 The T6 entered production in 2015, new featured included LED headlamps and new safety measures.