We're delighted to announce the first ever Alan Rogers rally. This 14-night break is an exciting opportunity to join fellow tourers in discovering the magical province of Andalucia. You will experience the true essence of Spain, taking in historic cities and hilltop villages, sampling traditional dishes and witnessing the passion of flamenco. The region's Moorish ancestry is never far away, and a visit to one of its most outstanding legacies, Granada's Alhambra Palace, is a highlight of the tour.
The first seven nights are spent at Camping Las Lomas, high in the Sierra Nevada Natural Park. The site has excellent facilities including a bar, restaurant and a swimming pool. From here you will be guided around the historic city of Granada, visit its Palace and the stunning Generalife Gardens, and share your experiences over tapas and flamenco at one of the city's most popular restaurants. Your next destination is Camping Cabopino on the Costa del Sol between Marbella and Fuengirola. Adjacent to a golf course and with good on-site facilities, it is within walking distance of the shops, restaurants and beach. The enchanting whitewashed village of Mijas is a maze of winding cobbled streets and its boutique shops are perfect for finding quality leatherwork, jewellery, paintings and ceramics. Historic Ronda is steeped in Moorish history, with imposing city wall and gates, preserved Arabic baths, and Mondragon Palace, but don't miss the Puente Nuevo with its breathtaking views over the El Tajo gorge, or Spain's oldest bullring.
There is plenty of free time for relaxation and shopping, but make the most of your duty-free allowances on the boat trip to Gibraltar. Take the cable car and meet the rock's most famous residents, the Barbary Macaques, discover the World War Two tunnels and stop off at one of the traditional coffee shops in Casemates Square.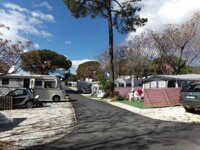 Included in our guides:
2019, 2018
This large, mature site is alongside the main N340/A7 Costa del Sol coast road, 12 km. east of Marbella and 15 km. from Fuengirola. The...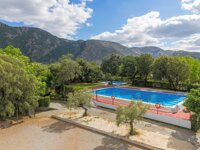 This site is high in the Sierra Nevada Natural Park and looks down on the Pantano de Canales reservoir. After a scenic drive to Güéjar-Sierra...